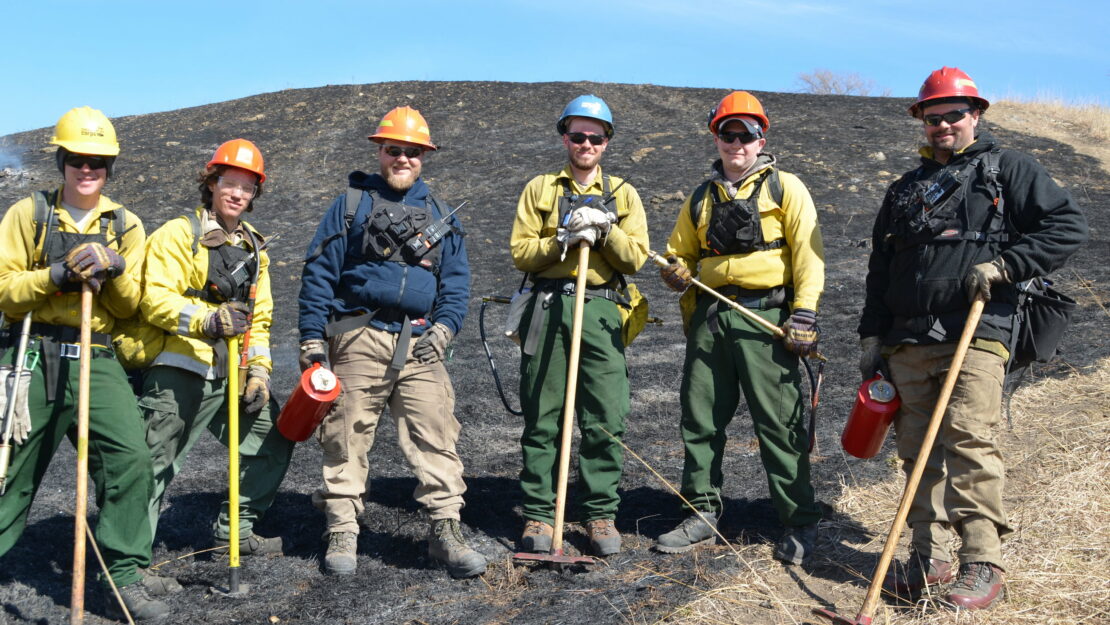 By: Candice McElroy
After a week-long Fire Academy at Camp Ripley learning about fire behavior and earning red card certification, AmeriCorps members based in Rochester quickly got busy conducting prescribed burns to restore prairie in southern Minnesota. On March 22, the Rochester Maples crew got out on their second of probably 20-some prescribed burns for the spring season, led by Conservation Corps Staff and certified burn bosses Doug Ekstrom, Dustin Looman, and Zach Dieterman. By lunchtime, the prescribed burn team of three Corps staff and four AmeriCorps members burned 25 acres of bluff land prairie at Memorial Park in Redwing, Minn.
Work restoring Red Wing bluffs started 5 years ago with the Friends of the Bluffs organization, a local nonprofit dedicated to improving the health of the Barn Bluff ecosystem and increasing visitor safety. The Corps' partnership with Friends of the Bluffs expanded into a partnership with the City of Red Wing, contributing to Conservation Corps' increased involvement restoring bluff land prairie through invasive species removal, tree removal, and prescribed burning. Prescribed burns benefit prairie ecosystems and wildlife by reducing invasive woody cover while stimulating growth of native grasses and wildflowers.
AmeriCorps crew leader Eddie Dittmer and crew member Dan Dahl were excited to burn the Barn Bluff site this spring, having performed invasive species removal of buckthorn and oriental bittersweet at the Memorial Park site in 2016. AmeriCorps member Dahl commented that "it is rewarding to revisit the site a year later and complete phase two of the project, to further improve the health of the prairie." Future Conservation Corps AmeriCorps members will return to the site in two or three years to conduct another prescribed burn.
When AmeriCorps members were asked if they ever "burn out" of conducting prescribed burns during peak spring season, second year AmeriCorps member Eddie Dittmer responded, "I never get tired of playing with fire. Every prescribed burn presents a new set of logistics and challenges." Dittmer also noted that it's valuable to see the crew progress throughout the season, working and communicating more effectively. Even on prescribed-burn two of the season, Dittmer noted that the crew already "worked more as a team today."
Rochester Maples Crew
Crew Leader: Eddie Dittmer (Owatonna, MN), serving second AmeriCorps term in Conservation Corps
Crew Member: Dan Dahl (St. Charles, MN), serving second AmeriCorps term in Conservation Corps, youth program participant in Summer Youth Corps in 2013.
Crew Member: Kaleb Lehnertz (Stockton, MN)
Crew Member: Jared Boucher (Austin, MN)