Partridge Falls Evening Adventure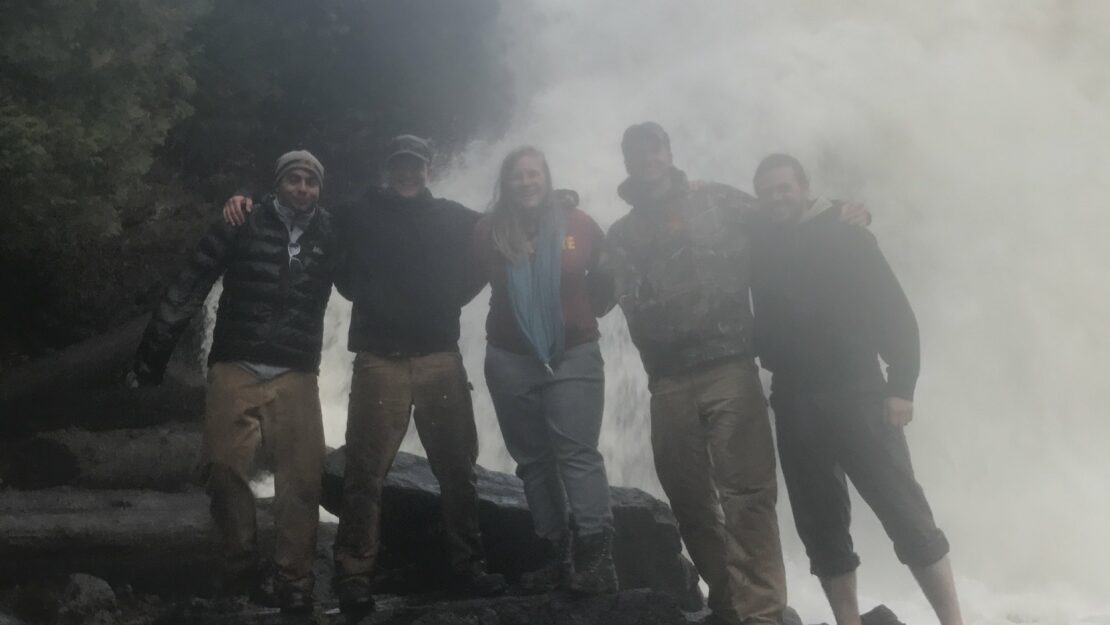 By: Erika Birnbaum
For the next seven days the Duluth crew has the pleasure of restoring the roof at Grand Portage's Canoe Warehouse. Their first day at the monument was basic information, their evening was a fun filled adventure taking them right to the edge of the Canadian/American border.
After a lovely spaghetti supper, the Duluth Crew and NE Field Specialist left to see the Partridge Falls. This waterfall lies on the river border. Off old Hwy 61 is Partridge road, a minimum maintenance road -not for low-clearance vehicles. The crew traveled a long ways on this road, wondering when they would get to the river. Where the road meets the river is a wide trail leading to the top of Partridge Falls. With the heavy rains and snow melt this trail was muddy and had a few temporary ponds in the middle of it. Heading to the falls the crew carefully navigated their way across these barriers.
Reaching the falls they were rewarded for their perseverance. The falls were in full swing due to the recent storms. The rocks at the top created a rapids just before the crest with violent waves and whitewater. While at the top the crew was able to get a good view down the river, they wanted a new point of view. Climbing down the rocky side of the waterfall the crew was able to see the falls from its base. A bit of a treacherous journey, snow and ice still clung to the rocks and spray made the shoreline extremely slippery. Nevertheless, Duluth prevailed. Photos were taken to commemorate the experience, which was well worth the soaking wet boots and pants.
As the sun started setting the crew headed back, climbing back up the way they came and trying to not get any wetter going through the mud puddles. On the way back to the bunk house they stopped by the old border crossing. This is the place where old Hwy 61 went into Canada. While the road leading up to the canyon is still there, the bridge across is not. It was a neat sight down the canyon, and the remnants of the bridge. As the sun sunk lower in the sky the crew headed down a very bumpy road toward new Hwy 61. Laughing and pumping up the heat the crew made their way home. Ready for a good night's sleep and an exciting day of shingling in the morning.