Summer Youth Corps: Fluberance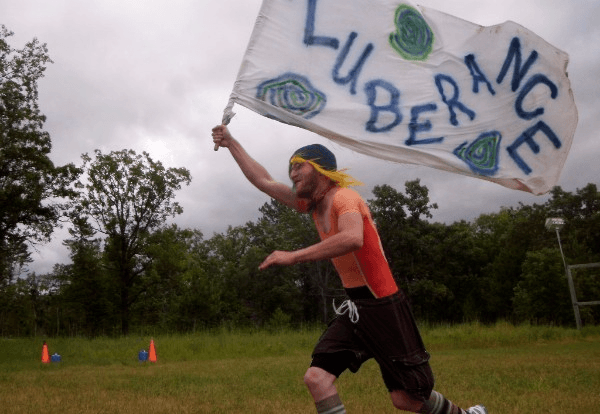 By: Teresa Butel
In the spring of 2014, I applied to be a crew leader for Conservation Corps MN on a whim. My sister was working in St. Paul at the time for an organization that worked in the same building as the Corps and she recommended that I look into their summer program. SYC was the first job I applied to without having personal connections to tell me about what I was getting myself into or to recommend me to the organization. I didn't know anything about the program beyond the Corps' website's advertisement to "provide hands-on environmental stewardship and service-learning opportunities" and my sister's impression that "they seem to have a ton of fun" from her limited creeping on their work in her shared office building. To my amazement, I was accepted. I began joking with my parents about how I was heading back to summer camp, which, in some ways, I was.
My memories of summer camp are fleeting but surrounded by the happy haze of recalling how the one or two weeks I spent living in cabins with complete strangers upended my daily routine. Fortunately, it is a feeling I am able to share with other people I went to camp with or really almost anyone who has ever been to camp. The feeling that 'camp is magic' resonates with so many people that it has become cliché. The feeling is unique for each person who experiences it; yet, it is one of the most common descriptions of camp.
Many camps develop distinct language in order to avoid describing such an incredible feeling in generic terms. For SYC, the word is fluberance.
To be clear, SYC is not actually a summer camp. Instead, it is a three-month program that hires around 140 high school students and 20 AmeriCorps members each summer to tackle conservation projects in state and national parks, forests, and recreation areas across Minnesota and neighboring states. High school students are hired for one-month sessions and assigned to crews with two AmeriCorps leaders alongside seven to eight other crewmembers. For the first few days of each session, these crews come together to train at SYC's base camp in St. Croix State Park. This base camp at St. John's Landing has been the home of the program for over 30 years. Each session, 70 high school students arrive at St. John's from across the Midwest to live with complete strangers in cabins. For many youth, as it was for me back in 2014, this is the first job they've gotten outside of a family connection. For some, it is their first job period. 58% of program participants come from greater Minnesota. For some, it is also their first time meeting people from a different background – backgrounds they may have only learned about through the media. I have heard students shocked when people from the cities are not like Keeping Up with the Kardashians or when people from small towns are not like Duck Dynasty.
The introduction to diverse people that happens at camp strengthens when the youth are sent out to accomplish a variety of natural resource projects on assigned crews. The small size of each crew allows youth to receive an incredible amount of professional development while working directly with their AmeriCorps supervisors. The small size also allows youth to really get to know everyone on their crew. At the end of the 2015 program, one youth told the story of how they were initially waitlisted, until the day the program actually began and then got a surprise phone call saying they were hired! The youth was not mentally prepared nor particularly enthused about the prospect of working. They also had autism and were concerned about struggling with social cues as folks on a crew spend significant time together – working, learning, playing, and living in close community for four weeks. For most of the session, that youth adopted the refrain, "GUESS WHAT, I don't care," when asked about work or engaging in other activities. Nonetheless, their crew leaders and peers recall "bombarding them with enthusiasm" every day until the end of session when this youth shared about how much the program had meant to them. Wrapping up their reflection, they said, "and GUESS WHAT…" to which his crew shouted in unison "I don't care" – he paused and corrected them, "no, I do care."
As our world becomes increasingly regulated by technology, SYC holds onto a value of disconnecting from the outside world in a way that allows these month-long communities to truly support, challenge, and grow together. In some ways the camp culture can feel exclusive – especially if you end up alone around several people reminiscing about camp. The memory sharing can make it feel like only the people who experienced the program understand the feeling of fluberance. In spite of that hazard, I believe that fluberance in its mixture of fun and flexible exuberance has an incredible power to bring people together. In my third summer with the Conservation Corps, I am still awed by the moments where I witness youth joking with people they would have never met outside of SYC. I have seen fluberance aid in the transformation of youth and staff alike, allowing them to embrace enthusiasm, to foster inclusion, and to leave behind their feeling of needing to be cool. As one of the youth I worked with in 2014 asserted with an end-of-session poem,
"Nothing & definitely no one is excluded from the great feeling of what we call fluberance."