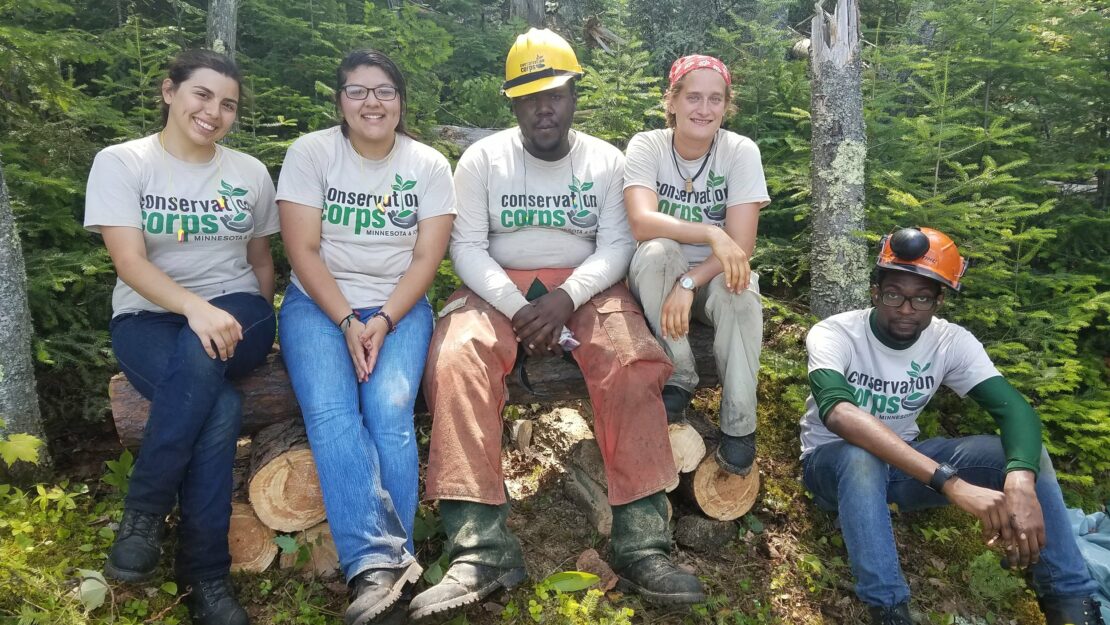 In a field dominated by white men, Hayley Henderson and Rosy Bray stand out as diverse, female leaders of our Faces of Tomorrow program. Faces of Tomorrow (FOT) is a collaborative initiative with the U.S. Forest Service to help underrepresented communities gain skills and experience in the natural resources field. "Bringing more diversity into the Natural Resources field is an important movement that will help the field progress." Says Rosy, Crew Leader in Ely. This summer, two FOT crews are stationed in the Superior National Forest gaining hands-on experience with the Forest Service.
During their service, FOT crews learn technical skills such as chain sawing and plant identification, practice social skills such as teambuilding and leadership and get a firsthand look at what it is like to work in the natural resources field. "This program teaches you things beyond the basics that you really wouldn't expect to get," says Rosy. Members are building professional development skills such as communication, teamwork, leadership, problem-solving, creativity and innovation.
Throughout the summer, crew members also see exactly what each department within the Forest Service does, informing participants on real-life future career opportunities. The variety of tasks and networking opportunities available truly are a unique and valued part of the Faces of Tomorrow program. "I have gained more direction and purpose and now have more experience to bring to the table," says Rosy.
So far this summer, the crews have been hard at work maintaining campgrounds in the Superior National Forest, clearing portages in the Boundary Waters and brush hauling on recreational trails. Clear trails are more welcoming, safe and functional for visitors than overgrown trails. Because of the crew's work, the community can safely enjoy the trails. Having a clear pathway also deters people from making their own, conserving the environment around the trail.
"Working in the Boundary Waters and Superior National Forest has been pretty amazing. Its hard work but incredibly rewarding," says Hayley, Crew Leader in Tofte. Rosy and Hayley plan to use this field work to guide their career paths. Hayley plans on getting a PhD in Ecology and Rosy is getting her Master's Degree in Environmental Education.
What stands out beyond the technical skills gained is how these young women have used the experience to learn about themselves. "I have learned how to be an example for my crew," says Hayley. Both Rosy and Hayley have broadened their horizons with the Corps and discovered the type of leaders they want to be.
Thank you to Enterprise Holdings Foundation for their support of the Faces of Tomorrow program.