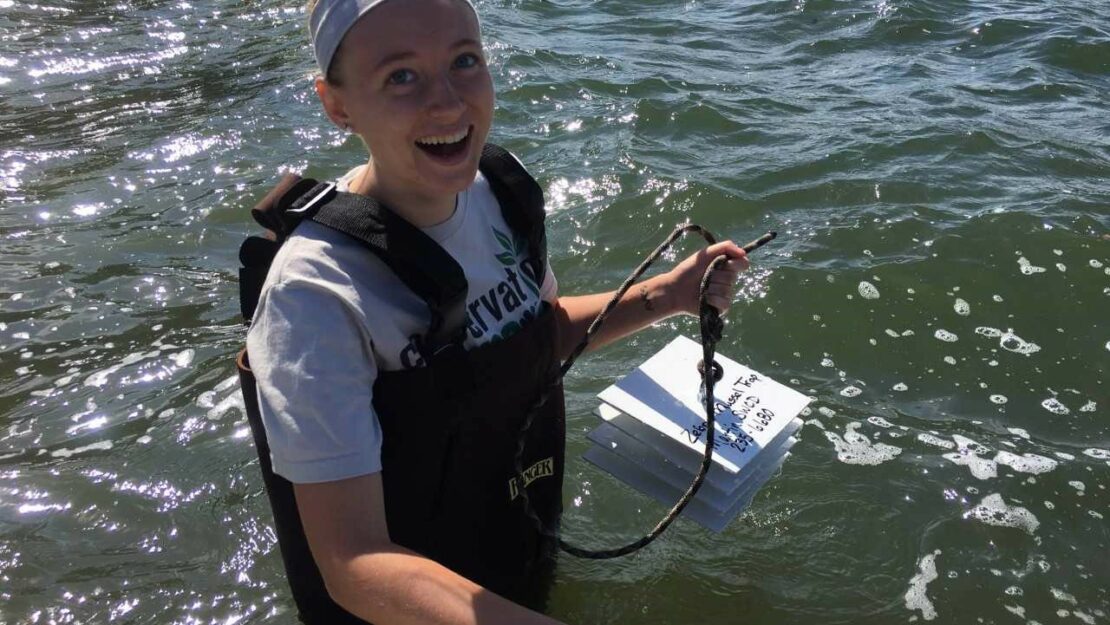 By: Alyson Eversman
I remember thinking so, it's really over? after finishing my first service term with Conservation Corps last summer. Even going through the same internship, a second time, the thought as I drove away in my car was still the same. (I'll come back to this.) That's the unfortunate thing about having a summer internship is that it's only about 3 months long. So basically, as soon as you start getting comfortable and familiar with the work and responsibilities, your service term is over, and in my case, I land back on my campus in Orange City, Iowa.
Although, even with the summer months rolling by in what seemed like seconds, I can still reflect on how much I was able to learn within that short amount of time. Such as gaining more knowledge about AIS and doing some outreach work within the community along with early monitoring, taking soil samples (which involved walking through a corn field to get to the site), attending more meetings, seeding multiple different sites, and measuring buffer strips for the new buffer law. Plus, all the knowledge I learned through training from last year, which I described better in my previous blogs.
But back to my thought, yes, my internship for the summer is complete, but the work is not. Martin SWCD will be extremely busy with seeding for newly enrolled CRP grounds (which is awesome) as well as outreaching for buffers. This is all on top of their usual fall duties which can include harvesting seed for future restoration sites, conducting a community event, and of course running a booth at the local fair. Plus, there are always flood, current, and fresh projects creeping their way into being finished or completely new with the latest grant that's approved.
And, just because my service through Conservation Corps is through, doesn't mean that my assistance to Martin SWCD has to be as well. I can always outreach to others outside of my community about SWCD programs that they have the opportunity to apply for, such as CRP and CREP. As well as encourage them to learn more about what their local SWCD provides, for example pollinator plots, cover crops, or even drill rentals. Or, I could just recommend the individual placement program through Conservation Corps so they could get the inside scoop of a SWCD themselves.
All in all, the conclusion to a service term can be bittersweet. I've learned a lot within a short time frame and I'm thankful to have done another term through Conservation Corps. And although my internship only lasts during the summer months, the work of SWCD's does not. I've seen first-hand a majority of the beautiful restoration sites that are only in the early years and haven't reached their full potential yet! This doesn't even include the CRP and CREP programs that are beneficial to farmers that provides a happy, head-turning ending to retired farmland. Finally, the most important thing I've learned throughout my two summers of service is that it's amazing how such a small group of people at my local SWCD can make such a powerful difference within the community and use conservation practices to make restoration sites, last forever.