Small moments, big impact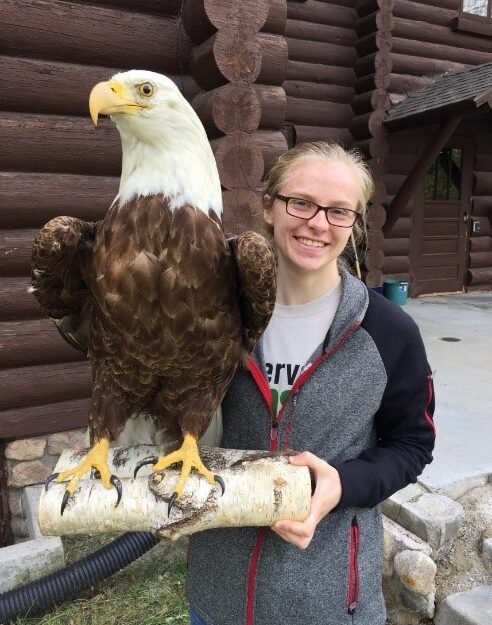 What are kids into these days? Video games, fidget spinners, Snapchat? There are always new and exciting toys and technology competing for young people's attention. But what about good old fashioned 'playing outside'? Our Conservation Interns know the importance of getting kids outside to learn and play and are working hard to re-spark their interest in the outdoors.
Elana Zien is a Conservation Intern at Minnesota Valley National Wildlife Refuge where she was trained to deliver interpretive programs to the public. Sophia Buysse is a Conservation Intern at Chippewa National Forest where she interacts with visitors and campers all day long.
See their stories below about those little moments that make a big impact.
Elena's Story:
"MOM! LOOK AT THIS! The iPad says we just saw a big brown bat!" This was the excited shouting that could be heard (perhaps for miles) in the woods of our refuge, at 9 pm on a weeknight during one of the bat hikes led by the staff of ecological services and a couple refuge interns. Ecstatic shouts might be a common sound on the refuge, and it won't be the last time we find a bat or get kids excited about the creatures that share the refuge with us, but it was the one of FIRST times that I felt like a real naturalist while working at the refuge. It's these kinds of small moments that can be significant if you let them be.
Now rewind about three weeks back from this moment, to a small conference room upstairs and a fresh faced group of interns going through Certified Interpretive Guide (CIG) training, in hopes that moments like this one could be a regular occurrence for them at Minnesota Valley. If you look closely, you'll see that at least one of the interns has doubts about her skills as a naturalist and abilities as an interpretive guide. (Hint: if you couldn't guess, that intern was me). Notice, however, that I said "was;" as in, when we go look at the intern with the iPad at the bat hike again, we notice that most of that first week anxiety and almost all of that trepidation is gone now.
It was this small moment with a little brown bat and the excited little boy who had spotted it that I realized small moments can be such a big deal. This one was a big deal because it warmed my heart to see the curiosity and sheer joy exuding from a student and future steward. It was a big deal because this moment had come about so easily, and it felt so natural to me; without even thinking about it, I had guided the learning of someone in a way that had given them a greater appreciation for and understanding of something on our refuge. It was a big deal because I got to observe firsthand the positive impact that a "light bulb moment" can have, on anyone, no matter how small it may be. Perhaps most importantly, it was a big deal because I was helping to advance the work and mission of the refuge, which is to not only preserve and protect wildlife and critical habitat, but to make it accessible for all those who wish to experience it.
Most of all, though, that small moment was a big deal to me in terms of personal growth and what I can look forward to. It meant that I'm getting better at my job, and growing more confident in my position as what I like to think of as an inspired guide of sorts. It meant that the enthusiasm and passion for conservation that I have is something that I'm able to share with everyone who comes to the refuge. And really, what more could I possibly ask for?
Sophia's Story:
As a Naturalist on Chippewa National Forest, my position involves many hours spent talking with visitors and campers on Chippewa National Forest, planning for programs, and exploring the forest. My week starts with a visit to the Boys and Girls Club on Wednesday mornings. There is usually a group of 15-20 students waiting when I arrive. Though it takes a few minutes to convince them to clean up their toys or put away their books and come into the classroom, telling them what we are going to talk about or hinting at the activity usually works! (If you have a bat skeleton, they are very interested in the program). My challenge begins once I start my program. There are always about five kids who are very excited to learn about the given naturalist topic, whether it is bees, bats, trees, or the water cycle. These kids help to keep others quiet and listening, and already know the answers to many of my questions. The Boys and Girls Club has pushed me to learn how to control a classroom. As a more reserved individual, it is a challenge for me to go beyond raising my voice while fighting with fidget spinners and other distractions for attention. As the summer has gone on, I have gotten better at controlling the classroom, but the Boys and Girls Club presents a challenge that I will continue working on. I have started to plan a shorter program to be done with the whole group with an optional extension program for those who are further interested. I have only tried this for two weeks, but it has worked well.
The rest of my week is filled with a Naturalist Meeting on Wednesday afternoons, and working in the visitor center Thursday through Sunday. My time in the visitor center is spent preparing for programs, presenting programs, organizing educational crafts, and talking with visitors. I am also finding larger projects to work on, such as brainstorming ideas for a natural playground. This experience has confirmed that I enjoy working with people, and pushed me to consider careers that would allow me to spend time out of an office or laboratory and with the community.
This position has already taught me many lessons, and we are only half way through! It has been a learning process from figuring out how to plan a program and write lesson plans to marketing my programs and creating displays for the visitor center. I have had many new exciting new experiences, such as seeing my first Showy Lady's Slipper in person, and exploring new places, such as restored CCC Camp Rabideau. Everyone I have met on Chippewa National Forest has been welcoming and excited for me to be here. The work atmosphere has encouraged me to work hard, ask questions, and take advantage of this unique opportunity as a CCMI Conservation Intern and a Chippewa National Forest Naturalist.