Field Crew Experience: Joseph Friedmeyer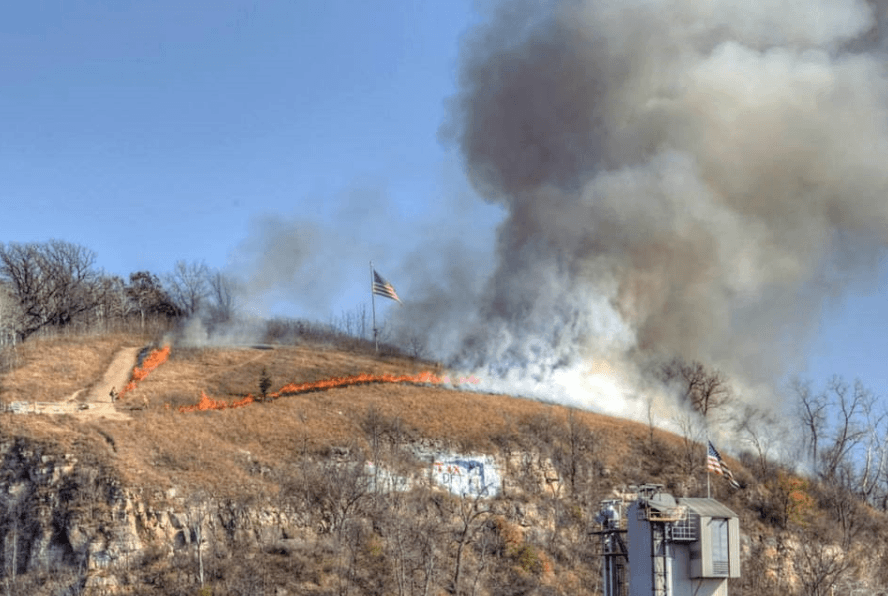 By: Megan Zeiher, Recruitment Coordinator
We connected with Joseph Friedmeyer to hear more about his member experience and share a glimpse of life after the Corps. Joseph served as a Crew Leader in the South District for two years and credits the Conservation Corps with allowing him to do what he loves as a career.
A lot of his projects revolved around prairie restoration work—so prescribed fire, buckthorn removal, garlic mustard eradication, seed collection, trout stream restoration, goose banding, chemical application and rattlesnake surveys. Joseph and his crews also did several spike trips (offsite projects) in North and South Dakota, mainly focusing on prairie rehabilitation and removing trees on old homestead sites.
"My favorite project I did in the Corps is a tie between prescribed fires and rattlesnake surveys. Fire just because it was fun to light stuff on fire, and rattlesnake surveys because we often found bonus morel mushrooms and deer sheds."
Joseph explained his appreciation for the work done to make the Field Crew Program happen year after year and said he always felt set up for success from the very beginning of the season, all the way to the end of the season.
"It's a great entry level, seasonal position in the natural resource profession. The working environment is super safe because of the in-depth classroom and field training put on by the program. The education award at the end of the service term is a huge bonus, too."
Joseph has served as a mentor for many Corpsmembers who have come after him and often speaks at end of year events in the South District. Outside of his Corps connections, he has stayed very busy in his own career.
"I have completed an associate's degree in natural resources with an emphasis on wildfire (mostly paid for by the Corps), did a stint with the Nature Conservancy, spent some time on a state engine, rolled with a hotshot crew for a bit and most recently accepted a permanent position with the United States Forest Service (USFS) in Ely, Minnesota. I also started mushing and use my dog sled team to work on projects for the USFS in the Boundary Waters Canoe Area (BWCA). My wife and I are keeping it real in the northland."
To anyone considering a Field Crew position, Joseph urges you to step out of your comfort zone or dive deeper into what you love and join the Conservation Corps.  In his experience, it was life-changing in all the right ways.
"The friends you will make, the things you will see and do, truly will be a life-changing experience. Embrace the suck. Times will be tough—hot, humid, rain, snow, cold, wet and buggy will be the standard of life for the service term—but it's all worth it."
To start your own Conservation Corps journey, check out our apply page and explore open positions or email questions to recruit@conservationcorps.org.