A Letter to Current Corpsmembers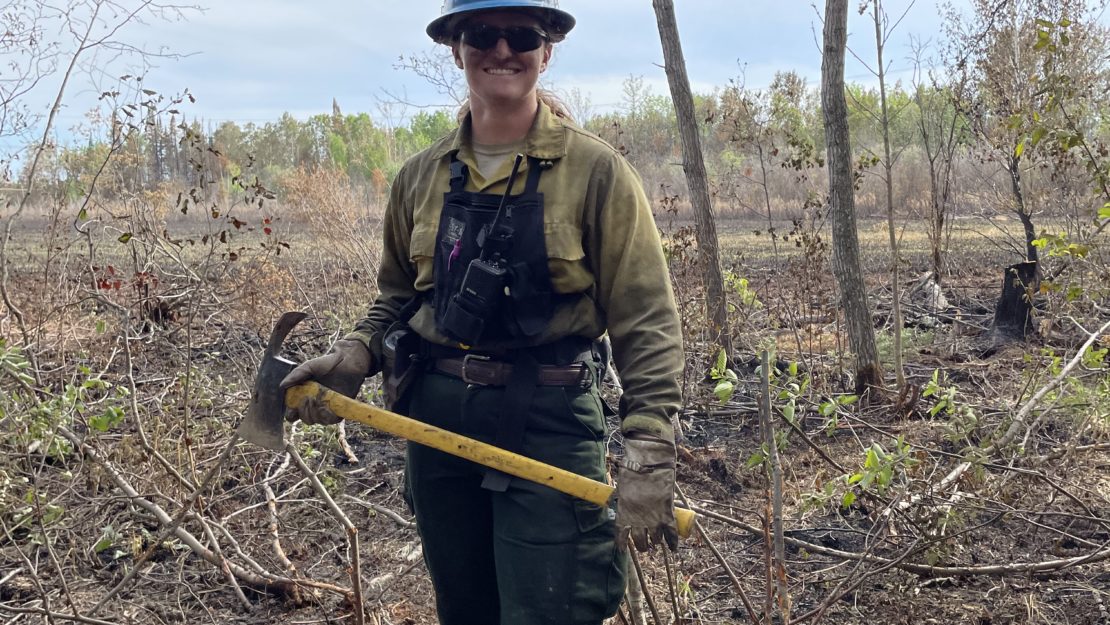 Hello and welcome!
My name is Molly Urban and I am writing this letter on behalf of myself and the rest of the CCMI Alumni Council. I'd like to bid everyone reading this a warm welcome, to share some of my experiences, and to introduce you to the myriad of opportunities being a part of this incredible organization can offer you.
I joined Conservation Corps in Rochester, MN for the beginning of the 2020 season. It was a very different time, both for me personally and the world at large. I had grown disillusioned and dissatisfied with my work as a graphic designer and had no idea where I was going with my career. I found out about the Corps through a stroke of luck as a friend of mine was a part of CCMI and wore the iconic shirts just about everywhere he went. I asked him about it, curious about what it was and what type of work it entailed. The world he described to me was so different from my own sequestered life in an office—he told me about prescribed burning, invasive species management, felling trees, building and maintaining trails, native habitat restoration, and planting trees. He described working with a close-knit crew in some of Minnesota's most beautiful parks and natural landscapes. Honestly, the list goes on and on. It sounded so foreign to me and almost magical, in its own way. Someone would pay me to be outside, in nature, doing hard work, and helping the environment? I had no clue what I was doing, or what I thought might come of it, but I applied, interviewed, got the job, and turned in my two weeks notice at my old office job. It was one of the biggest risks and most uncertain steps I've ever taken.
What I found on the other side of this huge decision was more than I could've ever dreamed of. I found lifelong friendships with individuals I never would've had the chance to meet without being a part of the Corps. I learned so many new things, from tree and plant identification to chainsaw operation and tree felling. I was taught how to safely and effectively conduct a prescribed burn. I worked as part of a team, developing relationships with my fellow Corpsmembers. I had the opportunity to go on multiple wildfire assignments, where I led crews in many different fire scenarios where I learned new and deeper aspects of leadership, responsibility, and hard work. I met so many influential people who would shape my career goals and change the trajectory of my life.
As a result of my work with the Corps, particularly on my wildfire assignments, I now have a job with the US Forest Service. I work as a  wildland firefighter where I put nearly everything I learned with the Corps to use. I am reminded daily of how well the Corps prepared me with the soft and hard skills honed over my two terms that prepared me to step into my new role with confidence. Not only did I have the field experience that is often so hard for new graduates to obtain, I had a whole community of older, more experienced employees of the Minnesota DNR and the US Forest Service who were eager to help me succeed. The people I met gave me a massive leg up in the job market compared to other applicants. I received career advice, interview tips, resume assistance, and general guidance from people who had once been in my shoes as a young person just starting their career.
Perhaps you have a concrete career goal in mind after you finish your service. Perhaps, like me, you have no clue what you are doing or getting yourself into. Or perhaps this term of service is just that for you—a limited term where you can serve your community and then move on with your life. Regardless of your goals, or lack thereof, your time with the Conservation Corps of Minnesota and Iowa will be reciprocal—you will get out of it what you put into it. The Corps has completely changed my life in so many ways. I have gained, learned, loved, lost, budgeted, laughed, cried, struggled, and succeeded, and your term of service has the capacity to be everything to you that it was to me.
I dearly wish everyone reading this letter the best of luck on this journey that you've chosen. Get ready for the ride of your life.
Sincerely,
Molly Urban
Alumni Council Member
2020 Field Crew Member, 2021 Field Specialist