AmeriCorps members travel to South Carolina to help with disaster relief efforts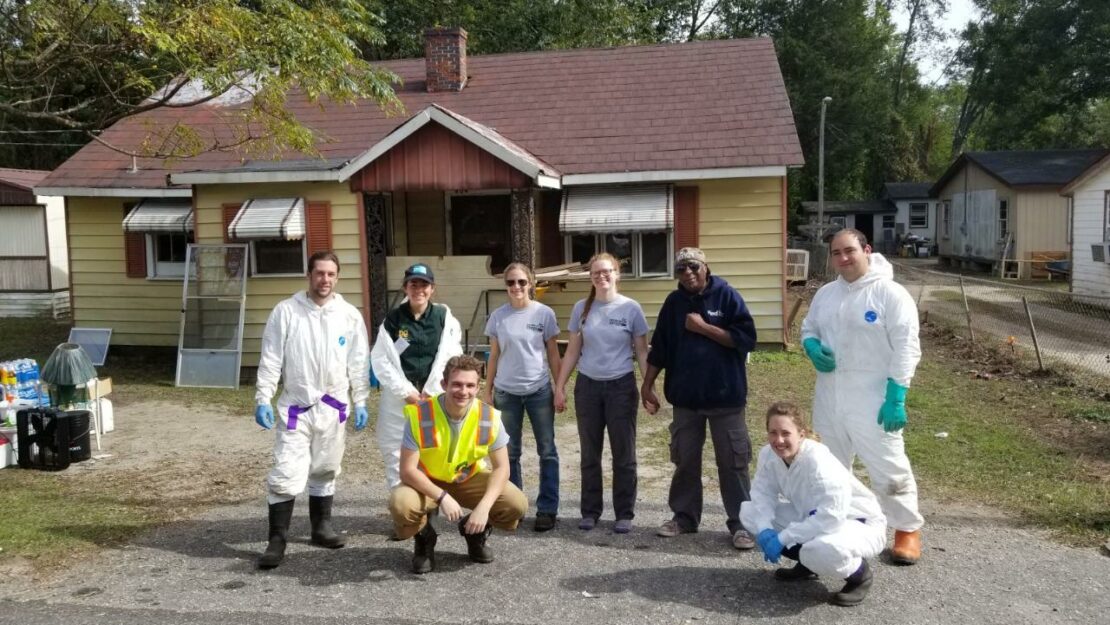 By Anja Hogan, NW District Manager
Almost a month after Hurricane Florence made landfall, Conservation Corps folks finally got the call to deploy to assist with current recovery efforts.
Although Hurricane Florence grew in strength as it tracked across the Atlantic, and reached Category 4 status twice in its journey, when it made landfall on 9/14/18 it was officially classified as a Category 1. This didn't stop Florence from leaving a historically destructive legacy in its wake, ultimately dropping 35.93 inches of rain in some areas and setting records with rivers cresting well above historic flood stages. The storm also sparked enough atmospheric turbulence that a few tornadoes sprung up in its wake, causing trees to fall and electrical poles to be compromised. This prolonged rainfall and slow retreat of waters from flooded areas prevented many disaster relief groups from responding earlier.
As soon as weather stations start tracking storms with the potential for landfall in the US, our staff and members are preparing for service. Many members join the Conservation Corps because they want to help, they want to give back and they want to make a difference in the world. Assisting with recovery after a natural disaster is one form of service that our mission takes.
After weeks of waiting for conditions to improve enough for us to gain access and provide meaningful assistance, we received the go-ahead from the Corporation for National and Community Service (CNCS). AmeriCorps members gathered in Saint Paul for a briefing on the situation and a final round-up of equipment to be prepared for activities that could include: mucking and gutting homes that had been flooded, mold suppression, clearing fallen trees and debris, volunteer and donations management, among other things.
After a two- and half-day journey, our 10 AmeriCorps members arrived in Dillon, SC where they tied in with other AmeriCorps-Disaster Response Teams (A-DRT) from Washington Conservation Corps, Southeast Conservation Corps, Conservation Corps New Mexico, and Montana Conservation Corps to begin organizing and planning the recovery work that needs to be done.
Two Conservation Corps Minnesota & Iowa Individual Placements, two Central District Corpsmembers, and four Northwest District Corpsmembers have been serving on Strike Teams completing muck and gut in homes and canvassing in neighborhoods to assess need. Corpsmembers on the Strike Teams say they've been happy to help homeowners and that one of the homeowners has even made them lunch twice.
Two Northwest District Corpsmembers have been assisting in the Planning Section which stays up-to-date on information and available resources to create daily Incident Action Plans and to work in the field with the Strike Teams.
Updates from South Carolina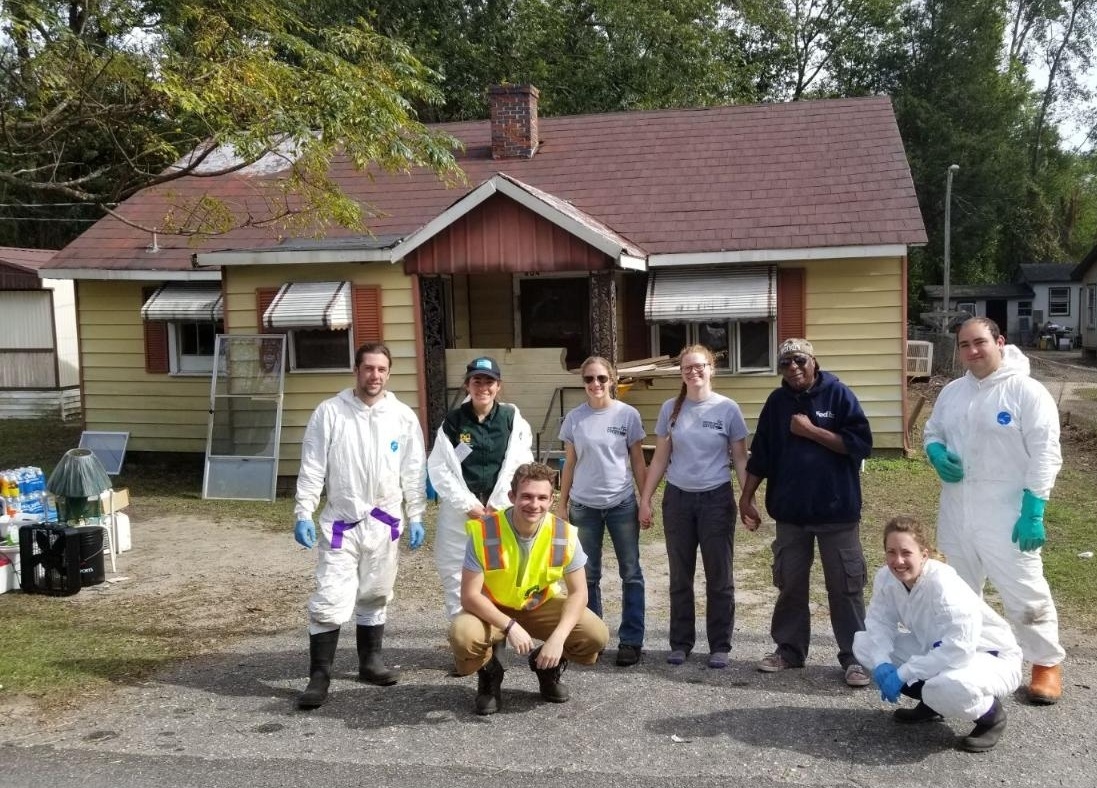 "Homeowner Robert Douglas, Jr. lives alone, but his little sister lives next door, and his cousin lives down the alley. All three had work done on their houses today. They all consented to media being present during the event today. Because they were so open to AmeriCorps, United Way, Lowes and the Carolina Panthers coming into their homes, the entire neighborhood turned out to see what all the fuss was about. Young boys met a football icon and role model, people got a free hot meal provided by Bojangles, and they learned more about AmeriCorps and our mission to help survivors. There is a lot of work left to be done on these and many other houses, but today was very inspiring. Seeing a community so devastated be able to come together and laugh with each other was amazing." – Rebecca Schrupp, NW District Crew Member & A-DRT Florence Planning Section Member
A Northwest District Field Specialist has been serving as the Volunteer Manager who assisted with organizing an event and volunteers on 10/23 and said:
"I helped organize a volunteer event with Lowe's and the Carolina Panthers NFL team. We had almost 30 volunteers turn out for the event, including Julius Peppers, defensive end for the Panthers. These volunteers worked with our muck and gut teams to help people whose homes had been badly flooded after Hurricane Florence. Representatives from FEMA, Marlboro County school district, and our Cadre from CNCS were also present at the event." – Alex Courneya, NW District Field Specialist & A-DRT Florence Volunteer Manager
As of Thursday, October 24th, the A-DRT programs stationed in South Carolina assisting with Hurricane Florence recovery have completed 41 damage assessments of homes, mucked and gutted four homes from flood damages, and cleared 120 cubic yards of debris. Great work!
We're thankful to have amazing AmeriCorps members that want to help others in their time of need and look forward to more updates and amazing accomplishments from them in the future.