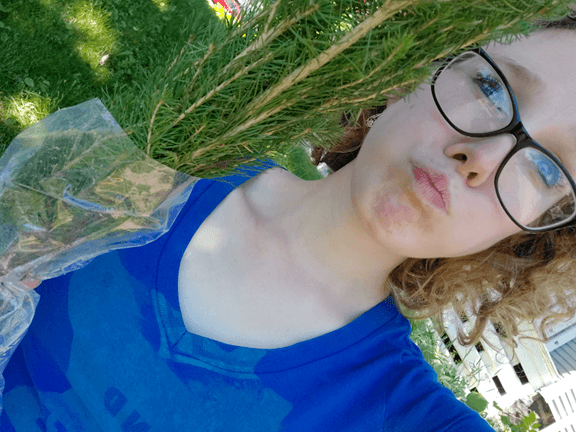 By Karolyn Preiss, Three Rivers 3 Field Crew Member / AmeriCorps Member
So, I got a brochure in the mail from the Arbor Day Foundation a few years back. They said that if I donated money, they would plant 5 new trees in my name, or they would send me 5 new trees to plant plus an educational pamphlet. And a bonus lilac bush!
It was super easy. They had my hardiness zone due to my zipcode and therefore knew which trees would do well in my environment.
I was living in an apartment at the time, but I wanted to see new trees putting down roots(!). You see movements of this sort online fairly regularly, but I thought that this was particularly cool because they would literally send you the trees. You could name them, plant them to honor people, watch them grow with you and your family. See the onset of time and of life etched in their bark.
I liked that very much!
Plus, the suggested donation was affordable for a recently-graduated college student. So, I called up my mother and asked if she wanted 5 new trees. And, she said yes!
That was all I needed.
I didn't internalize that I could technically buy trees until that moment, I think. It's like shopping to save the planet. Which is fantastic. (I like the trees with the flowers. Teehee! And, oaks. For Oak Savanna purposes. Also, bears. Bears like Oaks.)
The Arbor Day Foundation is not the only place to get trees. You can find them at any local store with a Gardening Section, or you can reach out to county officials to see about Native Trees.
That being said, the Arbor Day Foundation is pretty cool though. The Foundation also offers a certification to cities who are committed to seeing trees thrive. There are four requirements for said certification (which I pulled directly from the Arbor Day Foundation website):
Maintaining a tree board or department.
Having a community tree ordinance.
Spending at least $2 per capita on urban forestry.
Celebrating Arbor Day. (Arbor Day is April 28th, 2023 per the internet for all those who are interested.)
Participating cities are a part of Tree City USA, and the town gets fancy signs to hang around, showing how cool they are. (We had them up in Duluth, which I, of course, took for granted until I was educated on what they meant. Once you know, you start seeing them everywhere. It's beautiful.)
The program currently has 3,600 participating communities that span the United States, Washington DC, and Puerto Rico.
Trees help absorb urban sounds, keep neighborhoods cool, reduce energy costs, boost property value, benefit mental and physical health, and absorb carbon dioxide thus helping to combat climate change. (This is more information directly pulled from the Arbor Day Foundation website.)
So, in summation, trees are pretty cool to have around.
If you want to participate in the Tree City USA program, reach out to your local town or city hall. And/or talk to a legislator or a city official. (You'll want to check in with city hall anyway to make sure there's root clearance for your new trees, if you choose to buy trees for yourself. Teehee!)
These are things that you can do, steps that you can take–taking the world into your own hands–to make a difference. For everyone on the planet.
The future is up to you.
(I just wanted to let you know about a few cool things that I didn't know about but I liked. Autonomy in planet-saving. And community planet-saving. Planet-saving is for good.)