CCMI moving forward in our work for justice, equity, diversity, and inclusion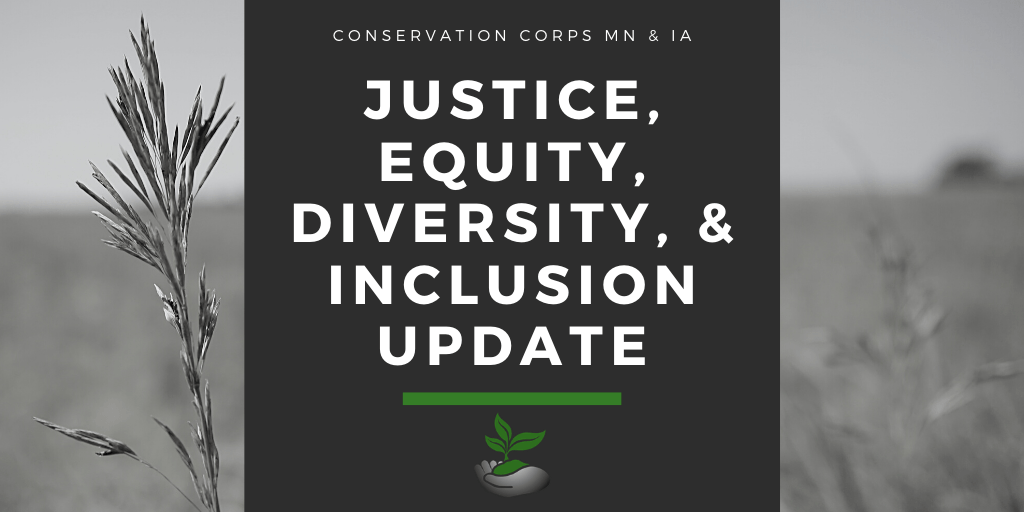 "Injustice Anywhere Is a Threat to Justice Everywhere"
– Martin Luther King Jr., 1963
These words, on a yard sign in my neighborhood this past week, ring as true today — In the wake of yet another brutal police shooting of a Black man — Jacob Blake in Kenosha, Wisconsin – as they were some 57 years ago.
Another tragic injustice playing out. Another incident speaking to the importance of our commitment to anti-racism work.
Black Lives Matter. They matter today and every day.
As an organization that serves and prepares young people today to be citizens and leaders tomorrow, we cannot let this moment pass without standing firm to resolve — again — to fight racial injustice.
This summer, feeling compelled to act following the murder of George Floyd, the staff and board at Conservation Corps Minnesota & Iowa have elevated and sharpened our focus on racial injustice and disparities.
We are deeply proud of our Corps members and staff who are committed to service-learning that builds stronger communities for all and we want to share the actions we've been taking to further our work for justice, equity, diversity, and inclusion in our organization.
Following the lead of our Justice, Equity, Diversity, and Inclusion (JEDI) Committee, we doubled down on creating safe spaces for having courageous conversations about racism,
Established in 2018, the JEDI committee supports CCMI's responsibility to advance equitable service-learning benefits and professional development, equitable access to opportunities, an equitable and transparent workplace, diverse representation for all communities at the participant, staff, and board level, and an inclusive culture within our own organization and our partners.
Since June, we have convened a series of staff and board discussions using reading and learning modules centered on recent events and perspectives on racial justice in environmental work. We have fostered more meaningful dialogue, cultivated a more trusting and candid environment among colleagues, and have advanced our capacity to engage our colleagues with difficult conversations about racism and equity in our sector.
We are now working to apply that equity lens to the objectives outlined in our new 3-year strategic framework including strengthening leadership capacity and standardized training around equity and inclusion for staff and participants, taking stock of our organizational culture and climate among both AmeriCorps members and staff, addressing barriers to participation within our programs and recruitment needed to attract and retain a more diverse pool of participants, and reaching out to cultivate new partnerships to better serve BIPOC (Black, Indigenous, and People of Color) and underrepresented communities.
This month, our Board will be receiving JEDI training from the Avarna Group, a national leader in this area, with the aim to review and renew CCMI's commitments towards justice, equity, diversity, and inclusion.
Continuing later this Fall, we plan to convene a full-day staff training on the racial history of the environmental movement, so we can be better stewards towards equity in our field.
To date, our JEDI work has focused mostly on setting up our staff to take action internally within their own programs and teams.  In the coming year, we will shift our focus externally to share our JEDI commitments and goals with our partners and communities.
At CCMI, our vision is a world where everyone has equitable access to nature, is equipped to succeed in career and life, and is empowered to make a difference in conserving natural resources.
We are committed to building a race equity culture to support that vision.
We have a lot of work forthcoming to advance this vision and we encourage those around us to join in this work.
Standing up to racism and injustice anytime and everywhere is part of that.
Mark Murphy
Executive Director