Cleaning up the Mississippi: Over 1 ton of trash removed during annual event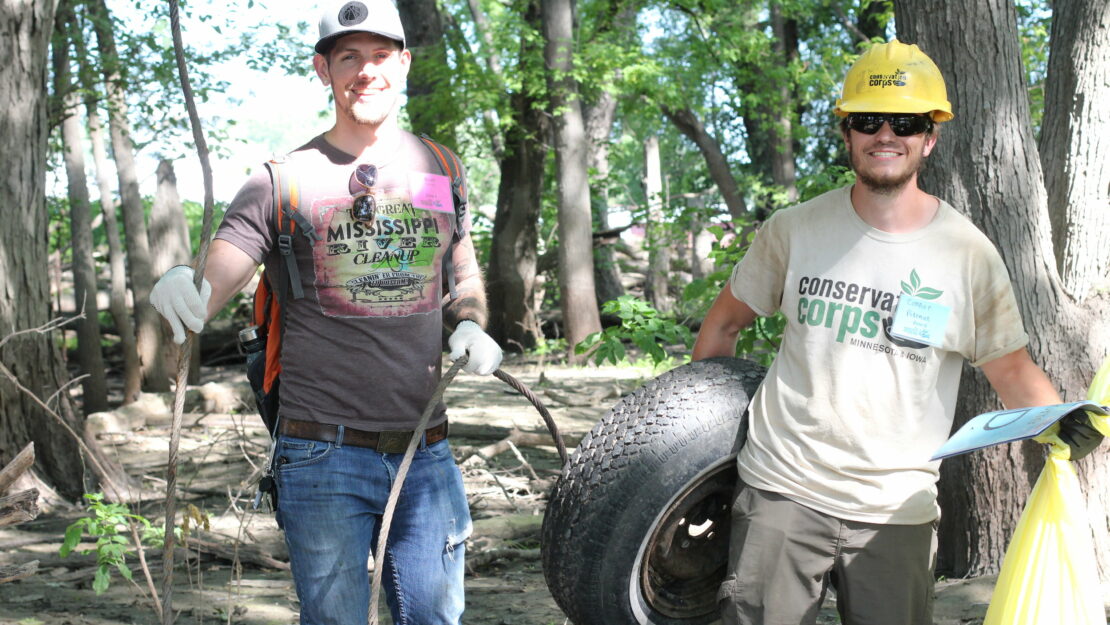 After being rescheduled for the second year in a row due to high water levels, the Conservation Corps' 28th Mississippi Riverboat Cleanup took place on Thursday, August 1. Nearly 100 volunteers removed 1.08 tons (2,160 pounds) of trash, including 19 tires, from the shores of the Mississippi River in South Saint Paul.
Common household items such as plastic bottles, straws, Styrofoam, shoes, lightbulbs, and other small items were removed. Most of these items likely came from the streets and collected on the shores of the Mississippi after the spring flooding events.
This year Conservation Corps partnered with over ten groups of local employers and organizations that provided important resources for the Riverboat Clean-up.Thanks to the following partners and groups who participated, along with many individual volunteers:
Art Start
Boston Scientific
Boston Scientific Global PMO
Cahill Financial Advisors
Friends of Upper Landing
Minnesota Master Naturalists Volunteers
MN Valley National Wildlife Refuge
Refuge Friends, Inc.
Saint Paul RiverCentre
Timberland Minneapolis
Uponor
Van Wagenen
Wells Fargo
These employers and partners encouraged employee registrations and some provided a paid work day for their employees who volunteered.
An exciting addition to our river clean-up the last two years has been a partnership with ArtStart, Minnesota Valley National Wildlife Refgue, Refuge Firends, Inc., and Minnesota DNR to collect items for a trash sculpture. Visual artist, Jeanette Dickinson, joined us on the river to search for colorful plastics, toys, small gadgets, and other unique trash items for an educational sculpture about pollution to be debuted this fall.
Sponsors for this event included Boston Scientific and Highland Bank. Padelford Riverboats provided transportation and lunch. Living Lands and Waters donated gloves and bags. National Parks Service and Minnesota DNR provided shuttle boats and drivers.
Our efforts are making a difference, but there is still work to be done! If you want to get involved with Adopt-a-River efforts, visit our website to learn more: http://www.conservationcorps.org/adoptariver/
This annual clean-up is an Adopt-a-River event, a program of Conservation Corps Minnesota & Iowa, and part of the Twin Cities Urban Waters Project, event series in partnership with Minnesota Valley National Wildlife Refute, Refuge Friends Inc., ArtStart, and Minnesota DNR and funded through the National Fish and Wildlife Foundation grant program.