Conservation Corps Minnesota & Iowa Deploys AmeriCorps members to Southwest Iowa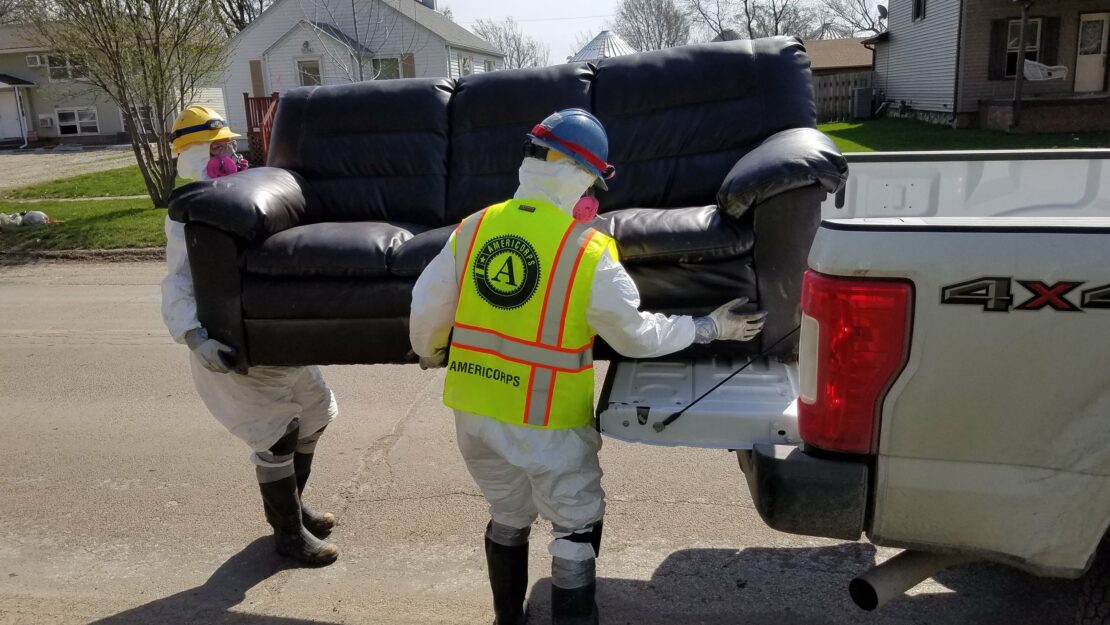 For Immediate Release
Conservation Corps MN & IA Communications
www.conservationcorps.org
Contact:
Melissa Cuff
Conservation Corps Minnesota & Iowa
651-209-9900, ext. 26
melissa.cuff@conservationcorps.org
Conservation Corps Minnesota & Iowa Deploys AmeriCorps members to Southwest Iowa
HAMBURG, IOWA, April 11, 2019 – Conservation Corps Minnesota & Iowa deployed a crew to Hamburg, Iowa in response to the flooding natural disaster. This 30-day deployment of 13 AmeriCorps members and two staff will assist Iowa community residents in Southwest Iowa of who are recovering from last month's massive floods compounded by snow melt.
The Conservation Corps Minnesota & Iowa crew operating out of Hamburg, Iowa brings together young people ages 18 to 25 who are from rural, suburban, and urban communities throughout Minnesota and Iowa. These young people are part of a nationally organized disaster response effort of the Corporation for National and Corporation for National and Community Service implemented through AmeriCorps Disaster Response Teams (A-DRT). This A-DRT recovery effort in Iowa also includes AmeriCorps NCCC members from in Vinton, Iowa and staff members from Washington Conservation Corps.
Serving throughout southwest Iowa, AmeriCorps members are engaged in many types of response activities from survivor outreach and homeowner intake to residential services such as property assessments, mucking & gutting, and mold suppression. Members are also assisting with donations management and coordinating volunteers coming into the affected communities.
"I chose to participate in this natural disaster recovery because I know people who have been affected and live and work in the affected community," said crew member Joseph Campbell. "To me, there is nothing more important for us to do with our time than to help our neighbors in need. It takes so many people, so many resources, and so much time to orchestrate everything and I am grateful to play my part in helping the community of Hamburg." Joseph Campbell, from Avoca, Iowa, is deployed with Conservation Corps Minnesota & Iowa as part of his year-long AmeriCorps field-crew placement based in Council Bluffs, Iowa.
The Corporation for National and Community Service, the agency responsible for service and volunteering that administers AmeriCorps, deploys AmeriCorps members to communities impacted by natural disasters. Following a disaster, national service acts as a force multiplier, providing key resources and significantly expanding the capacity of existing organizations on the ground. For example, more than 40,000 AmeriCorps and Senior Corps members were deployed in response to Hurricane Katrina. In the decade since, AmeriCorps teams have provided critical support after countless disasters, including Hurricane Harvey, Hurricane Irma, Hurricane Sandy; the 2013 floods in Colorado; and tornadoes in Joplin, Mo., Tuscaloosa, Ala., and Moore, Okla.
###
About Conservation Corps Minnesota & Iowa: A 501(c)(3) nonprofit organization, Conservation Corps Minnesota & Iowa provides hands-on environmental stewardship and service-learning opportunities for youth and young adults. They perform conservation, natural resource management and emergency response work throughout Minnesota, Iowa and surrounding states. www.conservationcorps.org
About AmeriCorps: AmeriCorps is a program of the Corporation for National and Community Service, the federal agency for volunteering and service. Each year, more than 80,000 men and women serve at more than 20,000 schools, nonprofits, and faith-based groups, joining the more than 1 million Americans who've taken the pledge to 'get things done' since the program's inception in 1994. www.nationalservice.gov