Conservation Corps Minnesota & Iowa and ServeMinnesota Launch Minnesota Energy Climate Corps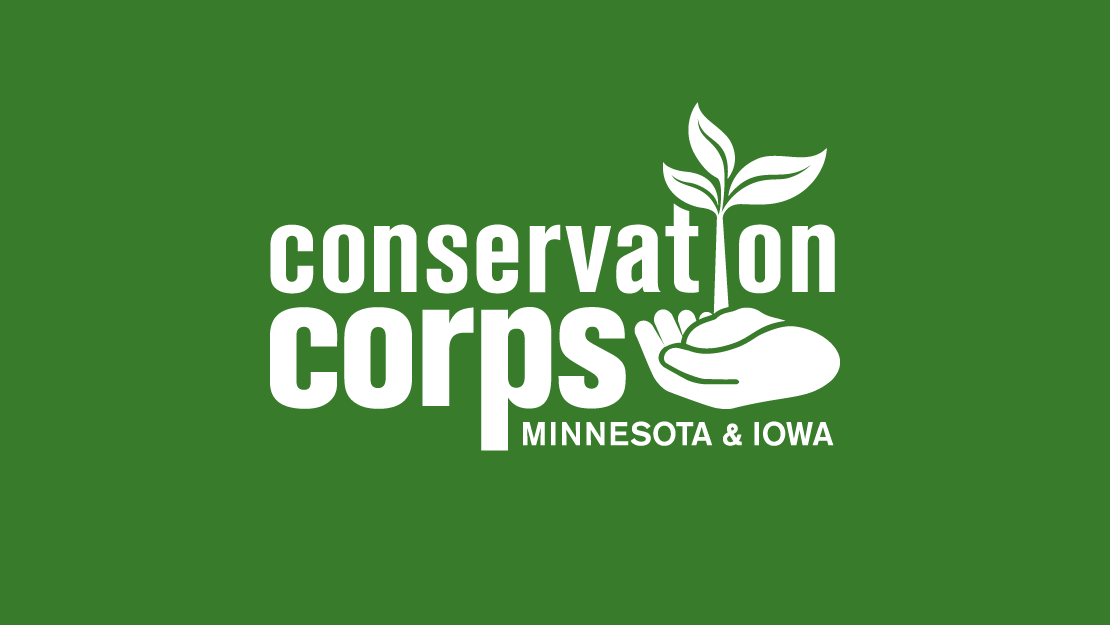 A program to train the next generation of diverse clean energy professionals
ST. PAUL/MINNEAPOLIS, Minn., October 16, 2023 – Saint Paul-based nonprofit Conservation Corps Minnesota & Iowa (CCMI), in collaboration with Minneapolis-based ServeMinnesota, announced its new Minnesota Energy Climate Corps program to train the next generation of diverse clean energy professionals. Twin Cities-based Black, Indigenous, and People of Color (BIPOC) AmeriCorps members will receive hands-on training as climate fellows to complete large-scale energy efficiency and renewable energy projects in public buildings. Initial projects will take place in state parks in partnership with the Minnesota Department of Natural Resources. The Minnesota Energy Climate Corps is supported by AmeriCorps.
This new program is modeled after California Conservation Corps' successful Energy Corps program. Members of the California Conservation Corps will visit the Twin Cities in November to help train new staff and Minnesota climate fellows.
"The skills our climate fellows gain can be put to use in a clean energy career," said Jill Baum, Conservation Corps' Minnesota Energy Climate Corps project director. "CCMI and our partners want to equip young BIPOC individuals with real-world experience that will pay off not only for them but for the health and future of our planet."
Community-Based Partnerships Fuel New Program
The nearly two dozen climate fellows will be based out of a space owned by Renewable Energy Partners, a black-owned solar energy company. Renewable Energy Partners develops solar projects while also acquiring property and raising funds for a Regional Apprenticeship Training Center in North Minneapolis.
ServeMinnesota, the state's commission on national and community service, was a catalyst for this initiative in Minnesota, inspired by other programs including California Energy Corps.
"Investing in Minnesota's workforce and climate future are some of our top priorities," said Julia Quanrud, CEO of ServeMinnesota. "This program creates a new opportunity that will help young adults build careers in the clean energy industry while improving energy efficiency in their community. We are thrilled to partner with CCMI to launch in North Minneapolis."
Gaining Skills for Future Energy Efficiency Careers
Projects during this initial pilot year will include performing energy audits (data collection) and basic efficiency maintenance (weatherization, furnace performance tune-ups) in facilities at state parks as well as buildings in the Twin Cities region. Climate fellows may also gain experience engaging youth and adult community members in conversations about energy efficiency, sustainability, and climate impact mitigation. At the conclusion of the program, climate fellows will have earned certifications and experience making them eligible for a wide range of entry-level energy professions.
The paid, full-time positions are 11 months long, and those ages 18-35 are encouraged to apply. Participants receive a $2,600/month living allowance and a $6,895 education award upon successful completion of the program, along with health insurance and childcare assistance.
Learn more and apply now at www.conservationcorps.org/energy.
---
About Conservation Corps Minnesota & Iowa: A 501(c)(3) nonprofit organization and AmeriCorps grantee, Conservation Corps Minnesota & Iowa engages youth and young adults, ages 15-35, in meaningful service, leadership development, and environmental stewardship throughout the Midwest. www.conservationcorps.org
About ServeMinnesota: ServeMinnesota creates positive social change by deploying the people power of AmeriCorps to translate research into on-the-ground implementation. By leveraging federal dollars, building strong community partnerships, and continually improving programs, ServeMinnesota ensures national service is positioned to make meaningful contributions to our state. For more information, visit www.serveminnesota.org.
About AmeriCorps: AmeriCorps is the federal agency connecting individuals and organizations through service and volunteering to tackle the nation's most pressing challenges. Each year, more than 80,000 people serve at more than 20,000 schools, nonprofits, and faith-based groups, joining the more than 1 million Americans who've taken the pledge to 'get things done' since the program's inception in 1994. www.nationalservice.gov