Excited about the future: a Q&A with the Board Chair and new Executive Director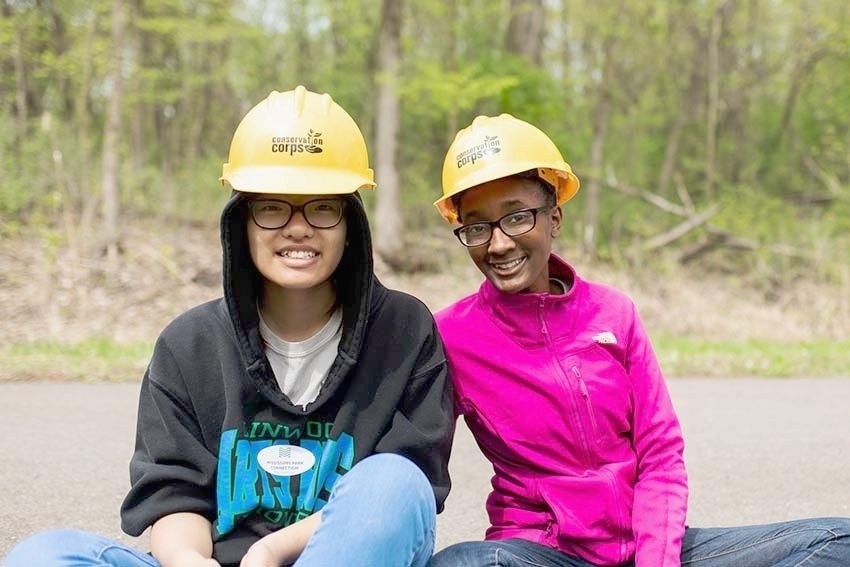 By Rachel Wagner, Development and Communications Specialist
Mark Murphy officially joined Conservation Corps Minnesota and Iowa as executive director on September 4. The Board of Directors announced their decision in August after a comprehensive national search. Mark is a seasoned business and non-profit professional with a passion for mobilizing organizations to tackle environmental, social, and economic challenges.
Although you can read Mark's bio on our website, we thought you'd like to take a deeper dive with us and hear from both Mark and our Board Chair, Jill Mahon Johnson, about why they are excited about the future of Conservation Corps.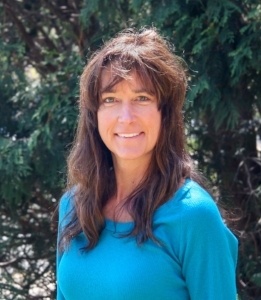 Rachel: Jill, share with us why you are excited about the future of Conservation Corps Minnesota & Iowa?
Jill: Easy one. We have talented staff, insightful board members, and an enthusiastic Alumni Council. And there is so much positive energy from partners about continuing our legacy. Now, with Mark on board as executive director, we are well-positioned to increase our capacity and impact. It's a wonderful time to be part of this organization!
Rachel: Where do you see Conservation Corps in five years?
Jill: With high education costs and workforce shortages, we offer valuable opportunities for young people and the partners we serve. The demand for STEM careers and green jobs is increasing so our work remains extremely relevant. We give young people the skills to successfully reach the next stage of their professional development…whether education or permanent employment.
Rachel: Why is our work important right now?
Jill: I see the Corps continuing our legacy of transforming lives of young people through skills training, outdoor experiences, and environmental stewardship. We will have the capacity and flexibility to meet the ever-changing needs of the communities and partners we serve.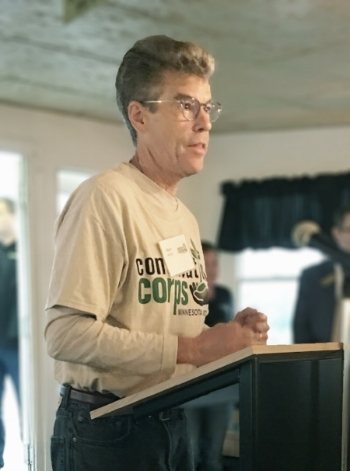 Rachel: Mark, what drew you to this opportunity with Conservation Corps Minnesota & Iowa? Why is our work important right now and what are you most excited about?
Mark: Conservation Corps has a long history of working with young people who are committed to serving their communities, interested in building practical skills for their future, and intent on improving, conserving and protecting natural resources and the environment.
This opportunity at Conservation Corps offers me a meaningful way to contribute and give back the skills and insights that I have been fortunate to absorb over my career as a leader in corporate responsibility and sustainability, philanthropy, and community advocacy and organizing.
The work of CCMI today is at the intersection of so many critical and relevant social, economic and environmental issues that we see in our communities.  I love getting up every day with the mission and task to embrace and tackle these opportunities and challenges. We are doing that at the ground-level at Conservation Corps.
Rachel: Share a glimpse of your vision for the organization and a bit about your leadership style.
Mark: My ambition is to help CCMI continue its legacy as an innovator and leader in working with national, state and local partners, to grow and adapt to meet a changing environment: workforce, economy, and climate.  I believe in the importance of collaboration and partnership. At CCMI, we have a great team already working with long-standing partners. Together, we can do more to develop and prepare young people, from diverse backgrounds, interested in STEM and Natural Resource-oriented careers, tackle opportunities in the emerging Green economy and meet increasing demands brought about by the changing climate and need for mitigating and responding to natural disasters.
Rachel: What do you hope to achieve in your first 100 days? First year? as the new executive director of Conservation Corps Minnesota & Iowa?
Mark: It may appear simple, but we must be patient as our first steps must be deliberate and sequenced. First, I must learn and explore what makes the Corps and its culture special. After all, I am not a former Corps member.  Second, fostering a collaborative environment, we need the team to keep building off solutions that are already in motion addressing some of our short-term fiscal and administrative priorities, while also preparing groundwork for where we want to set a future agenda. Lastly, we need input and alignment to set a new strategic plan for CCMI, and we must include the perspective of our many stakeholders as we set our course forward. The good news for me as I come on board is that CCMI is already on-the-move and its future is very bright!