How do you make a leader?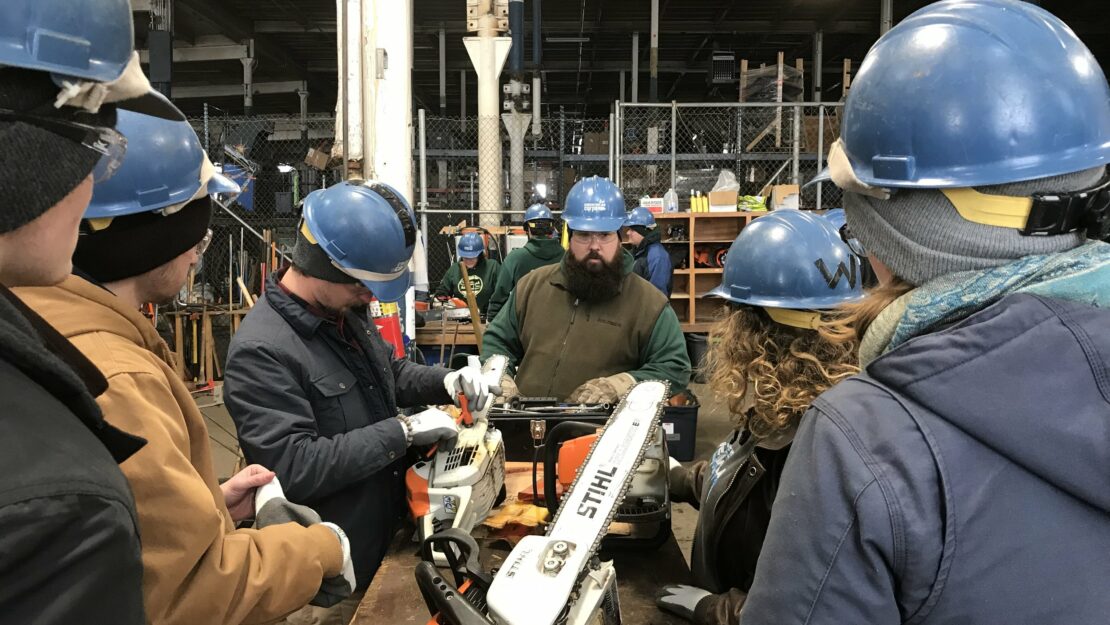 By Gina Hatch, AmeriCorps member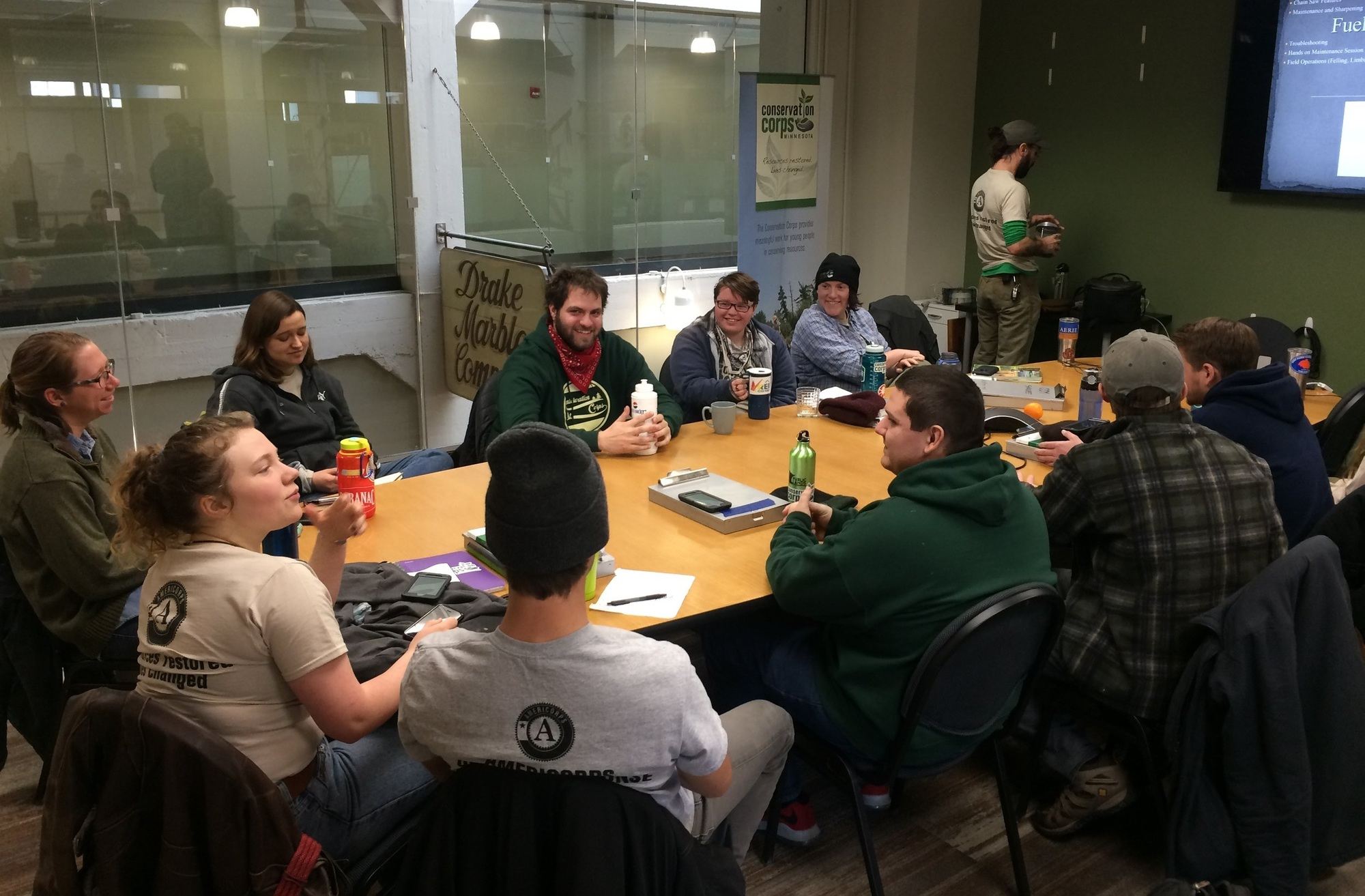 Crew leaders from Central District settle in for a presentation on chainsaw operation at the Conservation Corps headquarters in Saint Paul, MN.
How do you make a leader?
The answer to this question is critical at the Conservation Corps, where field crews are trusted to work safely and effectively in far flung posts across Minnesota and Iowa. Applicants willing and selected to lead these crews are responsible for their crew members' safety and work performance at project sites. They solve technical hurdles in the field, look after their crew members' development, and also address any interpersonal challenges that may come up among members.
So how does the Conservation Corps prepare new crew leaders to fill these shoes?
The straightforward answer: Gather new crew leads from around the state together at an overnight base camp for a week of orientation that includes an introduction to National Service, workshops on conflict mediation and risk management, scenario-based problem solving, Q&A sessions with seasoned leaders past, personal values assessments, and a two-day finale of Wilderness First Aid training. Then send these leaders-in-the-making back to their service districts and follow up with a second week of technical skills training on chainsaw operation, pesticide application, GIS tools and mapping, truck and trailer operation, expense reporting, and effective social media practice.
The complicated truth: Authentic leadership skills take shape over time, on the ground and in the heat of critical moments that require decisive action. Crew leader orientation and training help give new leaders the tools to develop these skills, but that development itself comes later through an evolution unique to each individual.
Still, those first two weeks of training are an essential, if brief, phase of learning and a critical initiation to the service crew leaders will be performing with the Conservation Corps. Corps staff spend an immense amount of time preparing to welcome new leaders each year, and the experience they create for these recruits is the result of honing and hewing that has taken place over many iterations.
There are perhaps four main pieces of crew leader orientation and training that help prepare budding leaders to bloom: the setting, the soft skills, the self-analysis, and the technical skills.
Part 1: The Setting and Context
Content aside, the context of crew leader orientation sends an important message in itself and allows AmeriCorps members to gain valuable perspective on the program.
Orientation week is held each year at an overnight conference and retreat center (typically in Annandale, Minnesota), allowing all crew leaders and Field Specialists Corps-wide – about 40 people – to gather in one place. They get to meet the Corps staff who make their work possible, and they receive a unified welcome as well as gratitude for their service. "We talk a lot about our history with AmeriCorps and we give a lot of appreciation for the members," explained Central District Manager Dorian Hasselmann. "Every speaker starts by saying a thank you – thank you for being here and giving your next ten months to perform national service."
And maybe even more importantly, by gathering all together, crew leaders get a sense of the scale of the program. "It helps create context for what people are doing," Dorian pointed out. "When crews are in their own settings, it's easy to lose sight of what their connection is to the state's natural resources and where they fit into the picture. Bringing everyone together helps them see what all the different crews all over the state are doing and what we're accomplishing as a broader movement.
Finally, the extended stay at the camp-like setting ensures that members have ample time for informal getting-to-know-each other. The folded hands and quiet apprehension of the first day quickly give way to a more open atmosphere as crew leaders chat over meals, relax together during evenings, and settle into the excitement that comes from meeting so many like-minded people. Having the chance to share stories and build camaraderie at orientation is what makes each year's cohort a real leadership team rather than just a sea of solo ships.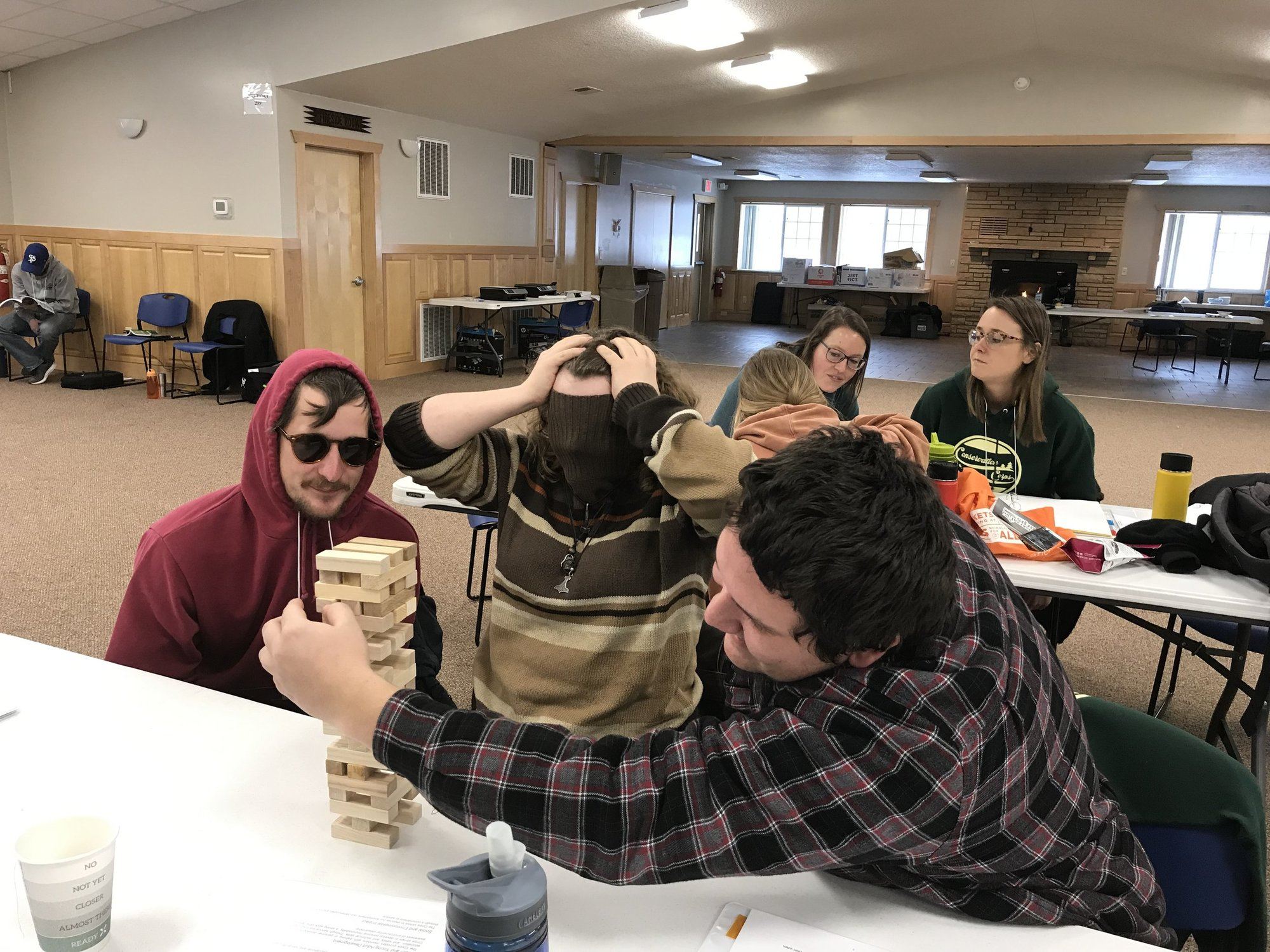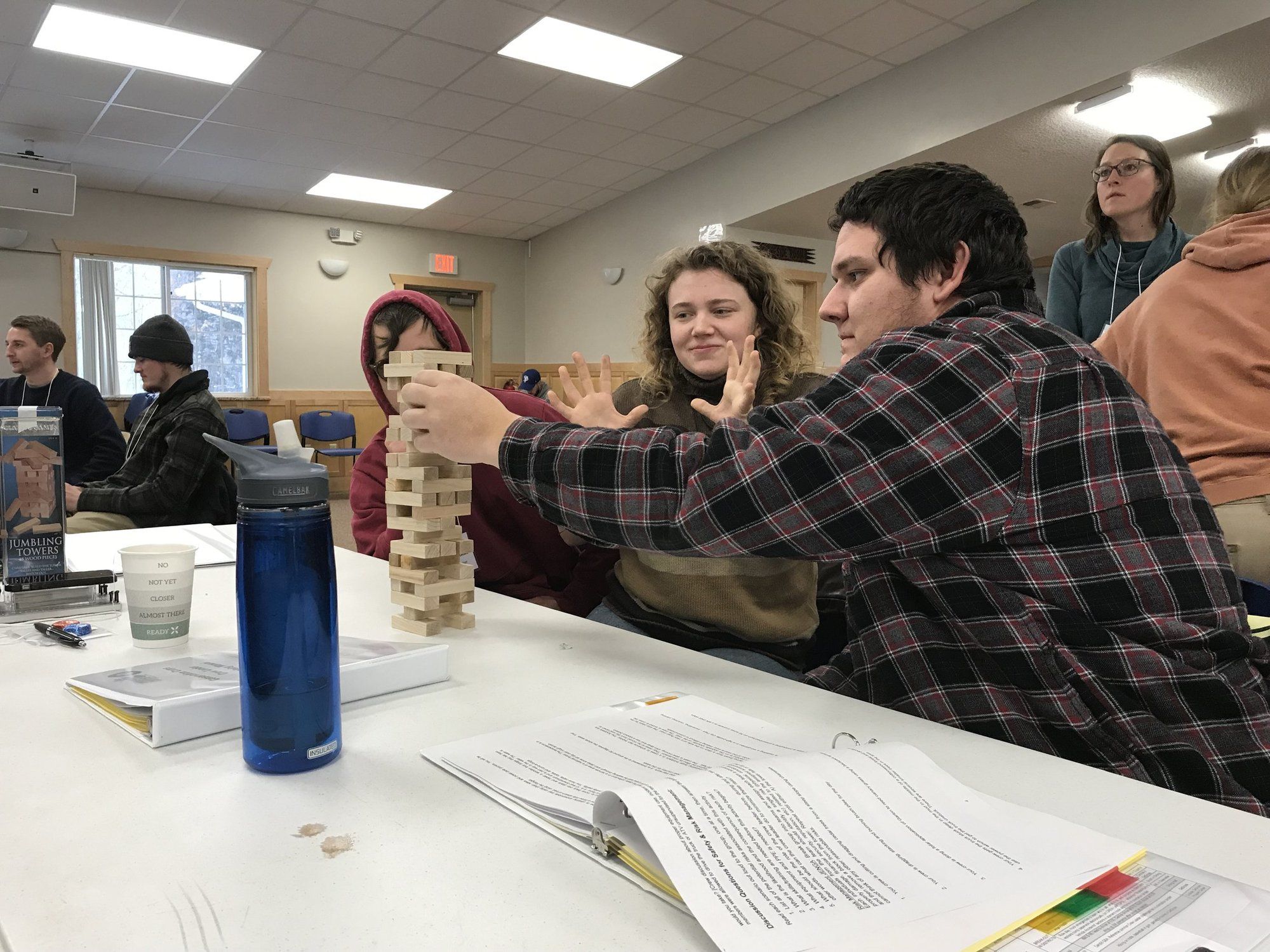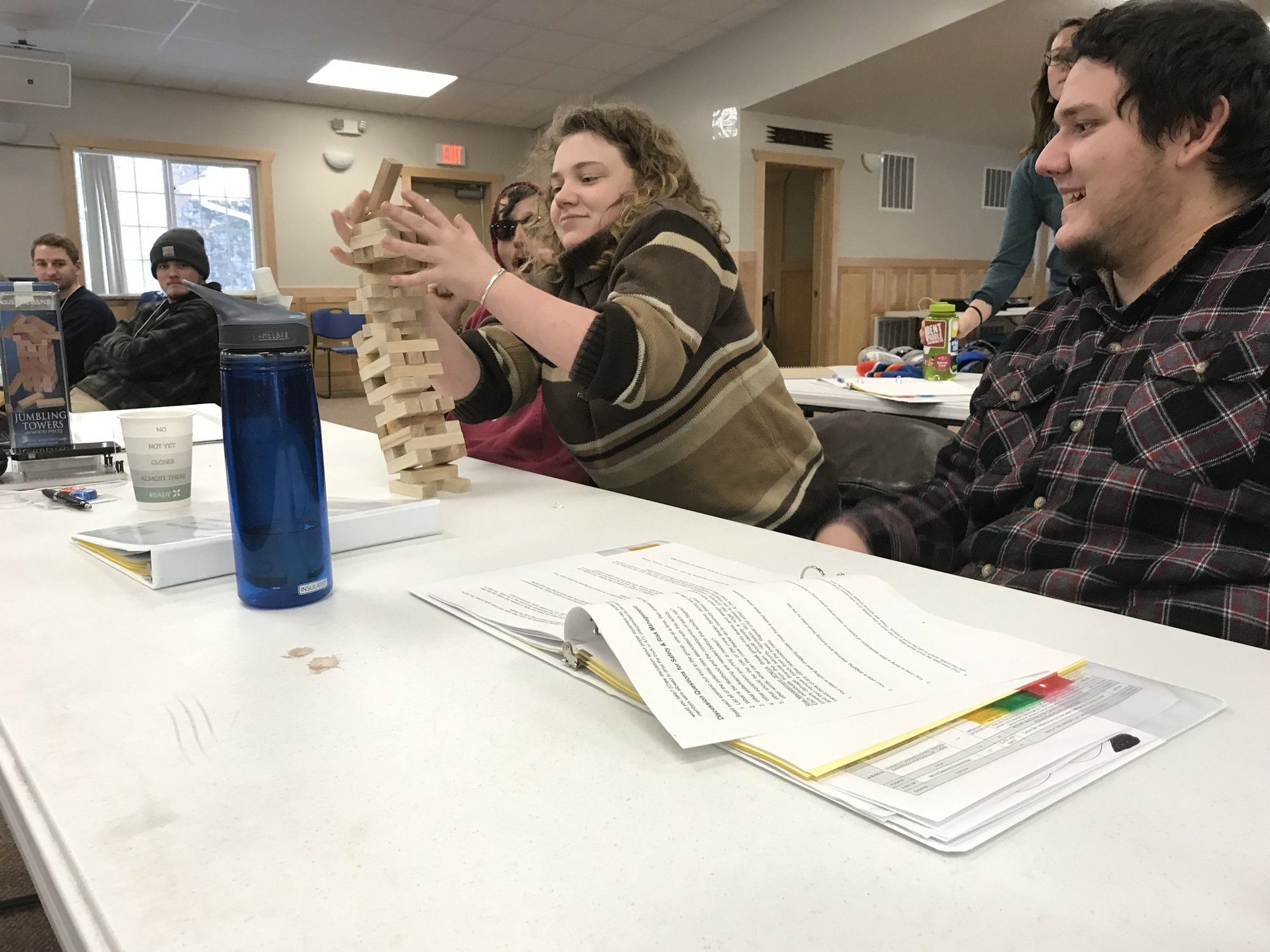 Crew leaders persevere through a tense game of Jenga during Crew Leader Orientation at Camp Friendship in Annandale, MN.
Part 2: The Soft Skills
Before crew leaders get their hands on chainsaws and power tools during week two, orientation introduces them to the skills that will make them not just technically competent instructors, but engaged and proactive mentors and team builders. The first couple days of orientation are heavy in presentations and discussions that cover topics like motivating crew members, communicating expectations, and building an effective crew dynamic. Small group break-out sessions give the new leaders a chance to work through various scenarios that could come to pass during their term, and they also get to talk candidly with field leaders from years past about some common experiences and challenges.
The communication and problem-solving skills that crew leaders start building during these small group sessions are maybe one of the most important parts of orientation.
Part 3: Getting to Know Yourself
But while this problem-solving practice is important, staff note the obvious and major caveat: "It's impossible to set people up with everything they'll need and to prepare them for everything that could happen over the course of their term," Dorian advised. "So much is about decision making in the field and building up their own confidence in the field."
Central District Assistant Manager Matt Roegge pointed out, moreover, that talking through scenarios in a group like that doesn't foster real independent leadership abilities; rather, those kinds of activities can create group-think, "and that's totally different from what you're going to do when you're alone in the woods with your crew. Decisions in that context – and authentic leadership – come from your own values."
And hence the importance of leaders getting to know themselves.
To take more direct aim at this goal, Central District staff rolled out some new agenda items within their cohort this year focused on self-analysis and personal values assessment. "We're trying to get them to assess and better understand their own values as individuals and then better predict how they would act when they're alone," Matt explained. "We also want them to understand how scenarios might play out when their crew members have values that clash with theirs – for example if a leader values punctuality and a member doesn't." The new activities include looking at crew leader case-studies from past years, and even case studies on CEO leadership styles in other professional fields.
Part 4: The Technical Training
Finally, after dealing in the abstract, freshly oriented crew leads start to get their hands dirty – and also dive into the world of logistics and administrative work.
The second half of orientation week at the retreat center is devoted to Wilderness First Aid training. Then leaders return home to their service districts for a week of skills training with their district managers. Every district's work is a little different, but some core skills apply to all. Leaders learn how to fill out the various paperwork that trails every field crew: expense reports, time cards, surveys of accomplished work. They also get briefed on social media best practices, as they'll spend the next year (intentionally or not) acting as a representative of the Conservation Corps and the broader AmeriCorps movement.
Chainsaw training takes up a hefty amount of week two's schedule, and with good reason, Matt explained: "One of the most dangerous things we ask members to do is take a chainsaw and cut down a tree. For a lot of them it's the first time they've picked up a chainsaw…16 pounds, a chain going around at 50 mph, teeth fully exposed. They won't be proficient by the end of the week, but they'll hopefully have more comfort and confidence with the equipment and be able to operate tools without abusing them."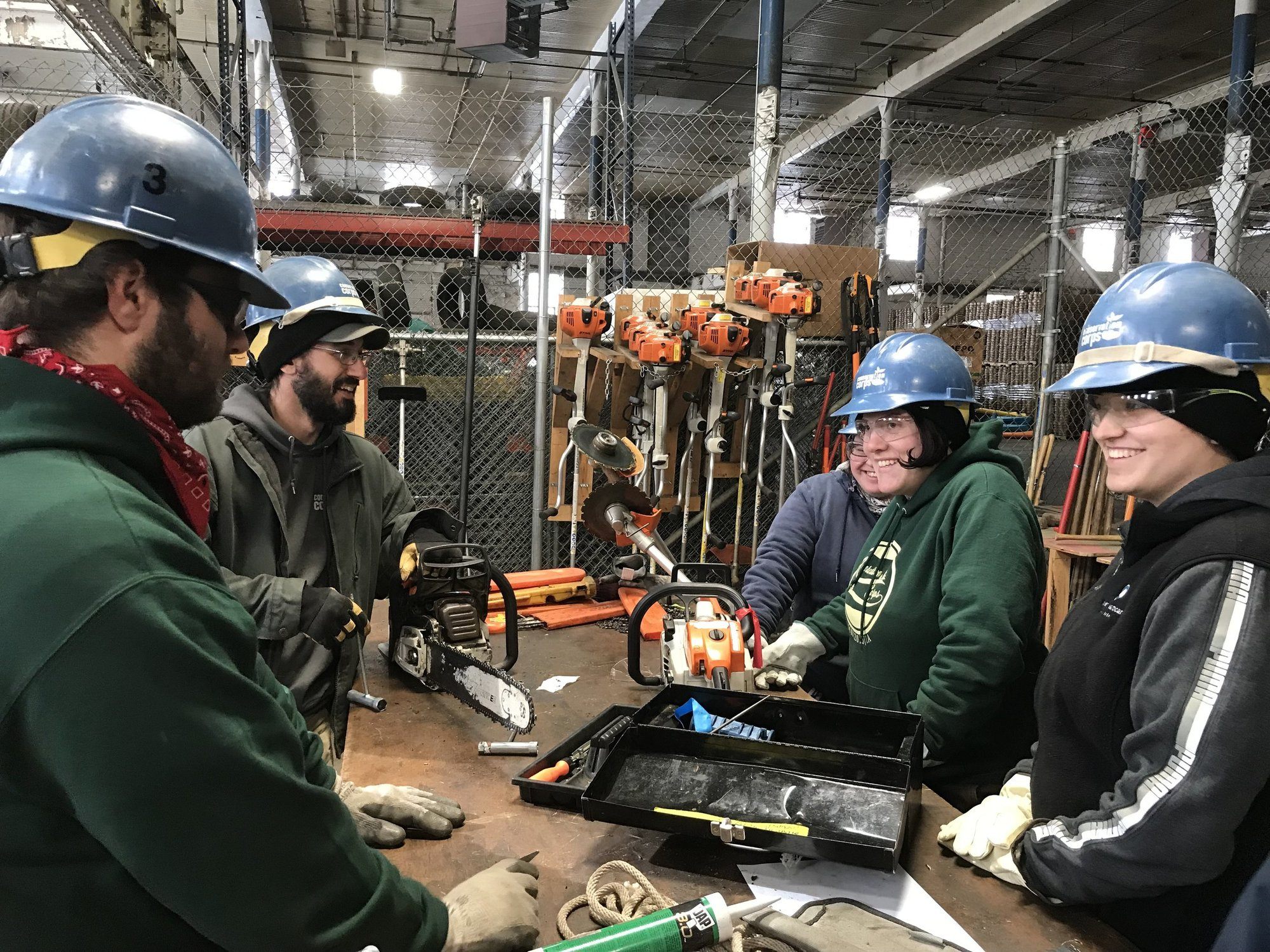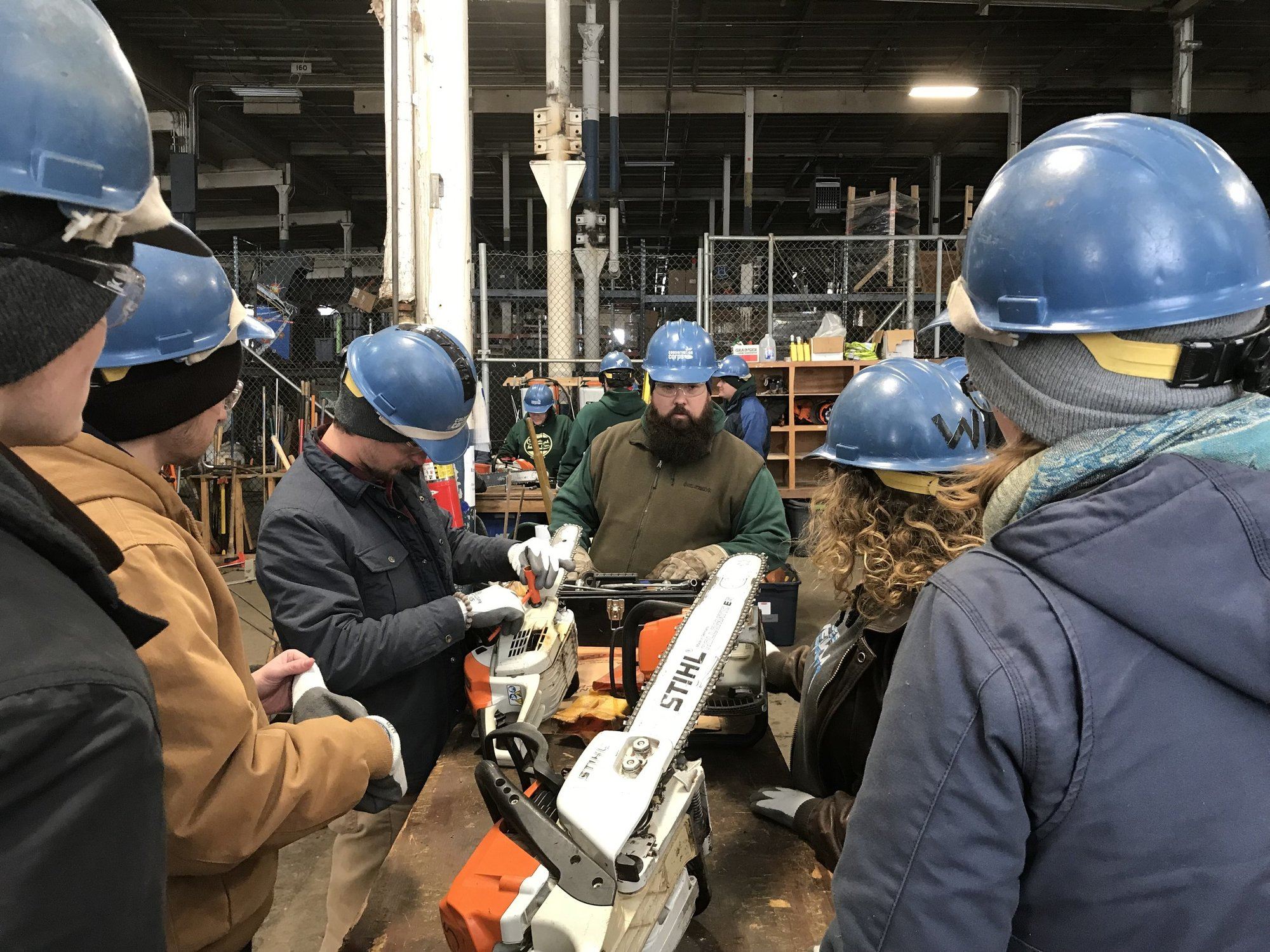 Crew leaders from Central District start hands-on chainsaw training in Saint Paul, MN.
Crew leaders also get trained in on the GIS and mapping tools they'll use to track their crew's work at project sites, keeping First Aid kits up to regulation, truck and trailer operation, tool maintenance, and herbicide application. Toward the end of the week, leaders take a pesticide applicator test to attain a non-commercial applicator license.
And with that, a new crop of leaders is born! Well, sort of…
Epilogue: Learning to Trust Yourself
Matt articulated the elephant in the room that staff are continually trying to address as they develop and tweak orientation each year: "[At the end of training] it's like one day someone tells them 'You're a crew leader!' and then they freak out a little because that's not how it works. We talk a lot about worst case scenarios and give them tips and tricks, but that's silly because the people we're training are humans, not programmable machines."
Indeed, if crew leader orientation and training sounds like a whirlwind, even for the programmable robots among us, that's because it is. Unsurprisingly, crew leaders often comment that it's hard to retain everything they are exposed to during those first couple weeks.
But through all the discussions, workshops, panels and presentations, staff stay cognizant of the fact that a lot of the skills covered in orientation take years or even lifetimes to fully develop – and just how much of the programming crew leaders manage to internalize in the moment may not actually be so critical. As Dorian concluded, a lot of how members grow into their leadership roles is out of the staff's hands: "We only have them for a week, and hopefully beyond that they learn to trust themselves and their peers."