How to Write a Facebook Post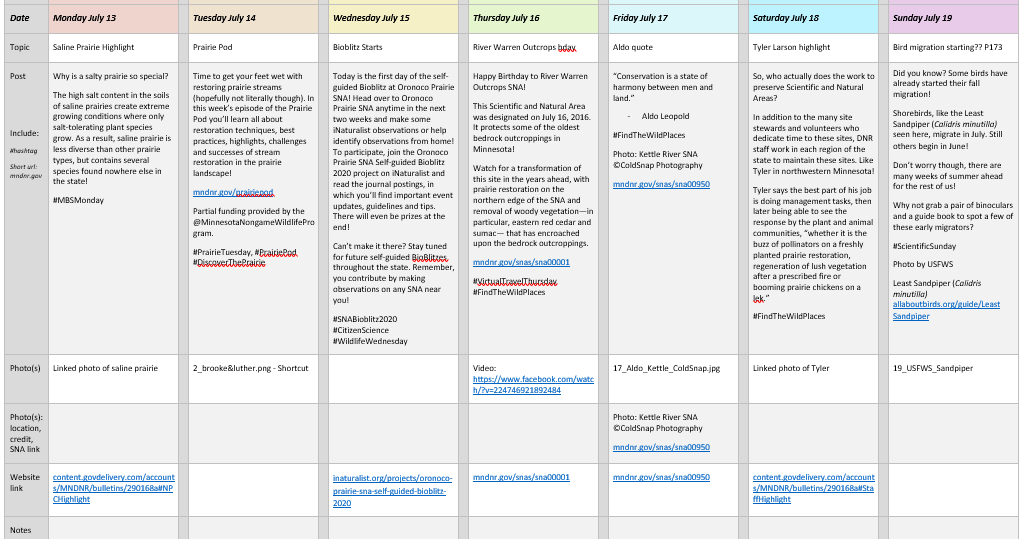 by David Minor, Communications Outreach Specialist/ AmeriCorps Member with MN DNR Scientific and Natural Areas through Conservation Corps' Individual Placement program
One of my biggest responsibilities at the Scientific and Natural Areas (SNA) Program is maintaining the Facebook Page. It is not as simple as writing a post, finding a photo, and posting it though. Well, okay, it is kind of that simple, but with a few added steps. Coming up with a relevant and thoughtful post nearly every day becomes a little challenging, and sending it to be reviewed, edited, and approved takes time too. We have come up with a pretty good system of doing it in the SNA Program. Moral of the story here: start early, do it in batches, and save unused ideas for later. You could almost apply some of those ideas to other projects too…
A month ahead of time, I will start looking at next month's empty content calendar document. I start filling in rough ideas that we can post about on each day. I made a holiday calendar to help with this part. It has official holidays, unofficial holidays (like National Lazy Day on Aug 10), SNA designation days, famous naturalist birthdays, etc. Having these themed days is incredibly helpful when writing a lot of posts. Even if I don't post about the "holiday" it can serve as a useful starting point to post about something else. It feels much less daunting than staring at an empty document needing to fill it up. I also check out Minnesota phenology guides, to see what birds, flowers, and animals will likely be doing during the month. I can build a few posts around that for sure.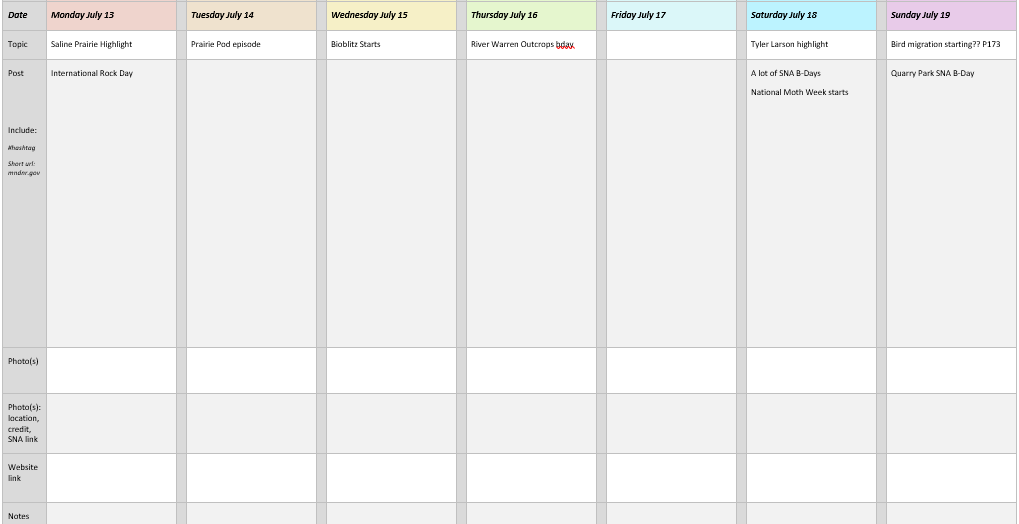 2. As I go about my other work, I keep an eye out for things that could make a good post on the SNA page. An interesting news story about how bees navigate when it's windy? I'll drop that link in the content calendar for when I start writing posts. Staff took a cool photo on a site? I know I'll make a post from that! If I find a good idea that doesn't work for the month, but I know it would be great another time, I'll put a note in my social media ideas folder, so I can go back and check it out later.
3. I break the month up into halves and write posts for each half at a time. Scheduling in weeks would do just as well though too. At least a week ahead of needing to schedule posts on Facebook, I will start writing. Hopefully at this point, the content calendar is filled with lots of ideas that can easily be turned into full posts. I write a few more sentences around the idea, find a relevant photo from our image library, a link to a resource, and it is almost ready to go!
4. Once I have all the posts written for the week, I send them to be reviewed, edited, and approved with at least a few days to spare. Once they come back, I make any edits needed based on the feedback, and I head to Facebook to schedule.
5. Each day at work, I then just need to log into Facebook at least once to check on the posts and respond to any comments. (Responding to any comments has whole a different process).
So, you didn't ask for it, but there you have it! The abridged guide to writing a post for the Scientific and Natural Areas Facebook page!