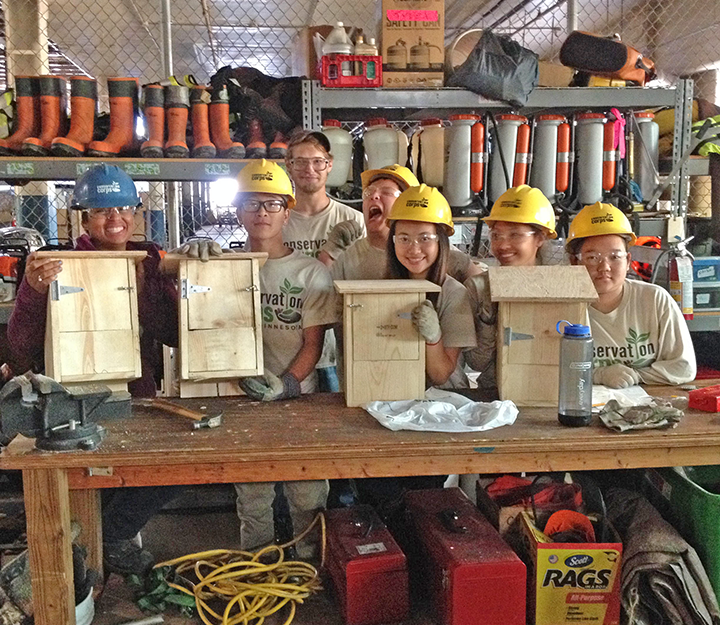 By Brett Stolpestad
With only two months left in the term (crazy, right?), I thought I would use my last two blog posts to share some of the most memorable experiences I have had as a Youth Outdoors crew member.
Looking back, I am extremely grateful for the opportunity to work alongside youth crews in Saint Paul. It has been great getting to know three different groups of kids, learning about their interests and backgrounds and getting the chance to teach them about leadership, culture and the environment. I hope they learned a few things along the way! I know I have. So without further ado, I will share just a few of my favorite moments from the spring and summer Youth Outdoors terms.
The spring term was both exciting and challenging as it was a completely new experience for most of our crew, including myself. We constructed garden beds, picked up trash, worked in a community garden, set up a booth for the Saint Paul city-wide cleanup, maintained a cottonwood research site, planted sedges and grasses in the Como Pool rain garden and made squirrel houses for the Wildlife Rehabilitation Center. All of our projects were fun and challenging in different ways, but my favorite project of the spring was the volunteer planting event at Lilydale Regional Park.
In early May, our crew had the chance to lead a group of volunteers in a planting event within the floodplain forest of Lilydale, located just outside downtown Saint Paul. We planted hundreds of trees and shrubs throughout the park and the youth had the chance to lead volunteer groups, teaching them how and where to plant. It was rewarding to see them take the lead on a project and demonstrate what they had learned throughout the term. The youth did a really great job and we all had a ton of fun that day. Plus we successfully accomplished our goal! It was certainly the highlight of the spring.
After moving on from a successful spring YO term, our crew transitioned to Saint Paul Parks and Recreation for the summer EcoRangers term. We were introduced to a whole new youth crew, and we quickly dove into our projects in Saint Paul. We worked on a bunch of beautiful and familiar sites including Lake Phalen, Phalen Channel, Hillcrest Knoll, Lilydale and Ames Wetland. We also had the chance to visit a bee colony at Bruce Vento Nature Sanctuary, courtesy of Erin Rupp from Pollinate Minnesota.
I can't even begin to imagine how many weeds and invasives we pulled over the summer (it was insane) so it was extremely refreshing to have the chance to do some seed collection at Bruce Vento Nature Sanctuary on the last day of the term. We took the seeds we collected over to the Phalen Channel to sow the area, bringing the summer EcoRangers term to a close. We had some time at the end of the day so we decided to play a game or two. One of the youth suggested a game that I have called "the vegetable game," and it is possibly the funniest and most ridiculous game I have ever played. Seriously, I challenge you not to laugh while playing or even watching people play this game. If you can, then I will respectfully salute you. This is how you play: Everyone chooses a vegetable and a hand/body symbol that represents their vegetable. The goal is to accurately perform and say someone else's symbol after your own. If you hesitate or forget someone's symbol, you're out. Hold on! There's a catch. If you show your teeth at any point, you are also out. Now picture a dozen people standing in a circle making "vegetable signs," while yelling at each other in weird incomprehensible voices. Yeah, it's pretty hilarious. I have never laughed so hard in my life.
I hope to save a few memories for my last post, so I'll end by saying that writing this blog has been a real pleasure. It has been fun reliving some of my favorite memories from the spring and summer. I know the fall will be just as memorable!