Mapping and Cut-stumping Buckthorn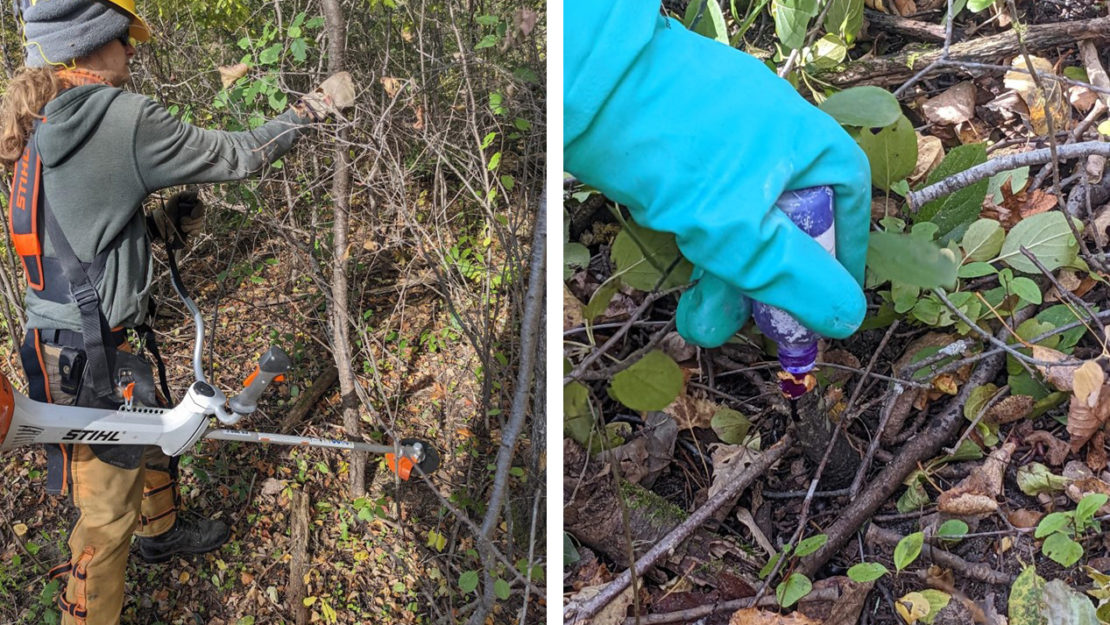 By Cyrus Bird-Walker, Brainerd Field Crew Leader / AmeriCorps Member
Buckthorn is an invasive species originating from Eurasia brought to Minnesota for shrubbery in gardens and yards. The two species we combat within the Corps, Common and Glossy, are ever present in Minnesota. Common buckthorn can be identified by its simple leaves with small dentition, orange color underneath its bark, and black berries clustered on each branch when mature. Glossy buckthorn, given its name, has glossy leaves but not dentition and black-red berries. So in the fall, when most everything else is changing colors or done growing for the season, buckthorn is still living and green. The perfect time for us to knock it out as much as we can.
The past two weeks, my crew, along with Bemidji (first week) and Arrowhead (second week), have worked alongside our project hosts at DNR Wildlife to eliminate stands of buckthorn at Poor Farm WMA not far from Brainerd. This location is great for cross country skiing in the winter among stands of aspen and oak, hunting in the fall, and casual walks during warmer months with its mowed walking paths.
The first week we tackled the 3 Mile Road side of the WMA up to the line demarcating the contractor's unit. We found higher densities of buckthorn along the southern boundary (left side) and central western boundary (top center). Shaded boxes help distinguish the progress we made each day and the squiggly lines show the walk routes we took to treat and grid the unit. As quality control, we check the larger gaps in our tracking lines for missed buckthorn. Red drop points are marked as future foliar spray areas for next spring when it warms up again. These spots are labeled for foliar since it would take too long to hand pull (not cost effective) and the buckthorn plants are too small to cut-stump and treat that way. With larger buckthorn, we used Stihl brush saws followed by chem daubers using Garlon 3A. Since these daubers are only 2 ounces per bottle, we were applying with a 100% concentration. If it were basal barking or with hand sprayers, 25% would be more appropriate. The direct application of a dauber is beneficial in that it is most efficient and eco-friendly.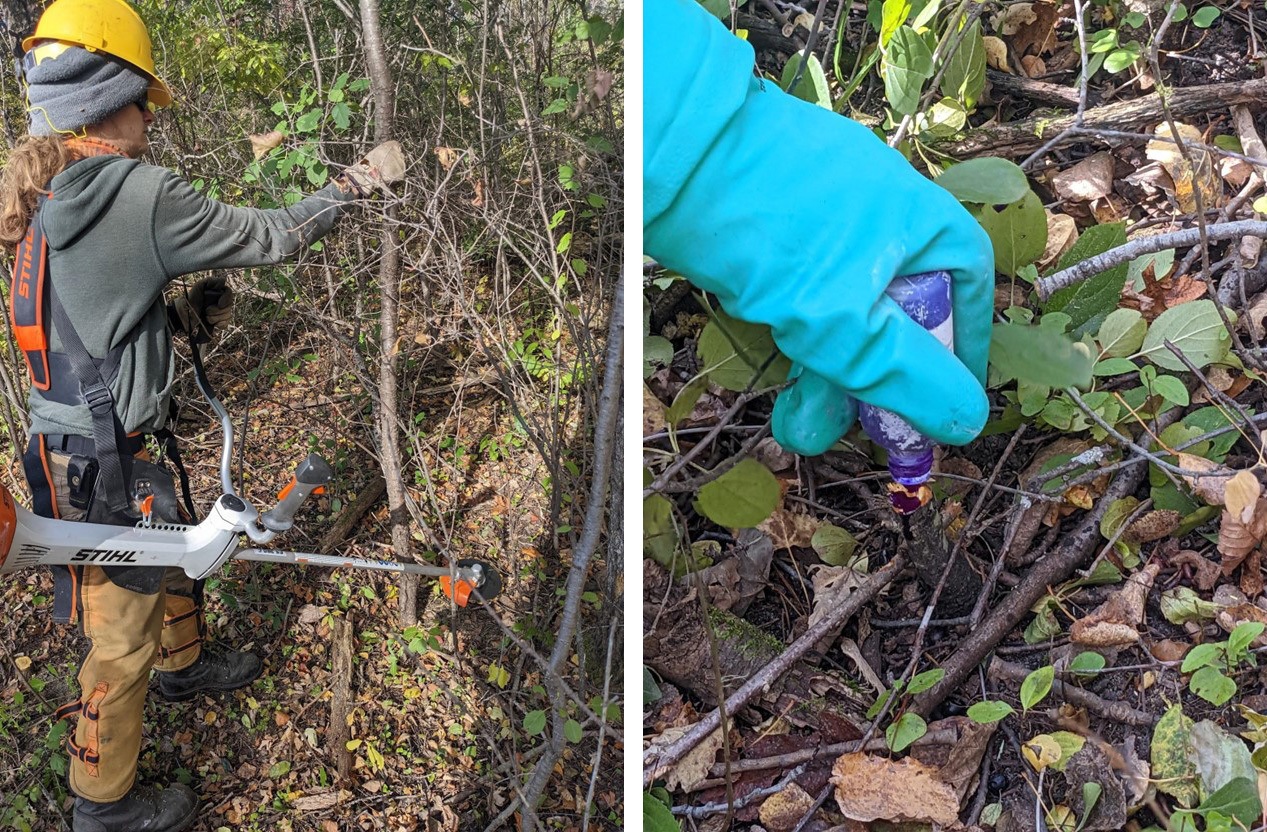 Week 2 proved to be more productive in terms of chemical use. We went through denser patches of buckthorn with higher concentrations of large trees. Some of these buckthorn plants were 20 feet tall with trunk diameters of 3 or 4 inches. That's quite large for a typically shrubby species. These proved difficult for brush saws at those sizes, so some required the use of smaller chainsaws, or handsaws if able. We found big patches on the northwest corner of the green and black polygon southeast of the pond as shown on the map. Even more so, the northern boundary of the unit (orange and white boxes) took more time. It felt as if we were clear cutting buckthorn in that area.
With the removal of all this buckthorn, and the occasional honeysuckle, we help to open up the forest understory for oak and maple saplings as well as other slower growing native species. Not only that, but hunters will have a more enjoyable experience for animals like turkey and deer. Below are attached images of my notes used to submit chemical reports for what we used on Poor Farm WMA and to detail what was being treated each day in terms of acreage. Mapping is done using Avenza with georeferenced maps provided by the DNR. All of these combined will tell us what will need to be done for next year's management and how effective the past two weeks will have been.