Meet the First IDEC Cohort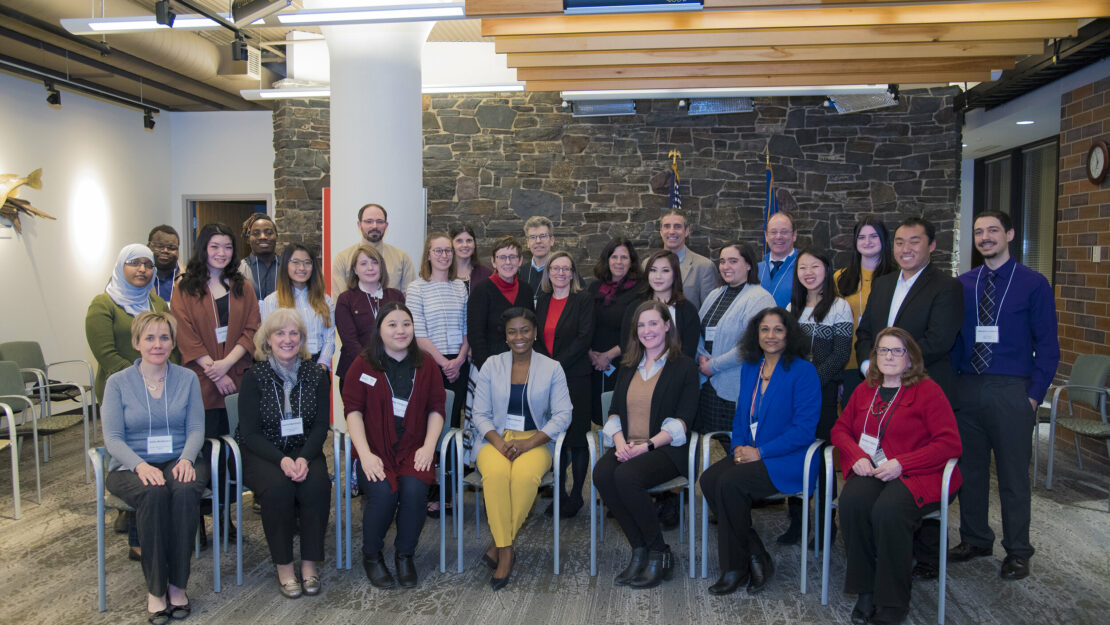 Introducing the first Increasing Diversity in Environmental Careers (IDEC) cohort! Learn a little bit about each of the fellows and their experience with the IDEC program so far.
The IDEC program provides a unique college-to-career pathway for underrepresented STEM college students, specifically, women, racial and ethnic minorities, or individuals with disabilities, who want to pursue a career in environmental and natural resources fields. Students receive a fellowship, mentorship, and paid internship during their academic journey.
Applications for the 2021-2022 IDEC cohort are being accepted now through May 28th, 2021!
Jenna Benson
Jenna is a junior at the College of Saint Benedict and Saint John's University. She majors in Environmental Studies. Her interests include environmental policy, finance, and sustainability. Through the IDEC program, she hopes to explore many paths this summer to find a specific career path to pursue in the future. In her free time, she enjoys biking, playing tennis, skiing, and reading. Jenna's favorite memories outdoors consist of swimming with her cousins at a cabin and learning to ski with her uncle.
Jesse Bode
Born and raised in a large, diverse family in Minnesota, Jesse was raised loving sports. An avid reader, he found his passion while reading books about bald eagles. After many trips to the Wings Financial Birdshow at the MN zoo, Jesse felt like he found his true purpose. Jesse was raised in an active family, fishing, hiking, and camping were a few common activities.
Because of his mother's connections, Jesse participated in an internship at the MN DNR where he helped teach fishing seminars to Hispanic students. He is in his second year of college at the Minneapolis Community & Technical College and he pursues to become a conservation officer.
Leland Hatcher
Leland is a non-traditional student heading to his senior year studying Forest and Natural Resource Management at the University of Minnesota – Twin Cities. A few years ago he was working a desk job in Omaha, Nebraska and decided that it was not what he wanted to do with his life. After exploring different opportunities he thought back to his days as a Boy Scout and the camping trips he took with his family. Leland realized it would be nice to have the chance to work in nature. He decided that he would move to Minneapolis, Minnesota to pursue a career in forestry. This field allows him to give back to people through natural resources and conservation efforts.
Calista Hughes
Calista graduated with an undergraduate degree at the University of Minnesota-Twin Cities majoring in Ecology, Evolution, and Behavior and minoring in Plant Biology. She is interested in ecosystem interactions, field restoration and conservation, improvement of science communication for the public. She is  the first IDEC alumni and recently started a full-time postision as a Greenhouse Technician at Bayer Greenhouse in Arizona.
Asiya Hussein
Asiya is a senior at the University of Minnesota Twin Cities majoring in Environmental Science, Policy, and Management in the Conservation and Resource Management track and minoring in Sustainability Studies. She worked at Anderson lab, an on-campus floriculture lab, where they breed flowers for ornamental purposes as well as green pesticide production.
She was born and raised in Rochester, MN, and loves being outdoors and being surrounded by nature. She grew up in a big family of seven siblings and likes to crochet. She has a five-year-old cat named Leo and she would be happy to show you pictures of him. Professionally, she is interested in soil and water sciences and working to conserve Minnesota's natural resources.
Tasha Kurtz
Tasha Kurtz will complete her final year with a Bachelor of Science degree in Biodiversity, Ecology, and Evolution at St. Cloud State University working to complete. She enjoys playing with her dog Cali, watching motocross and supercross, camping, kayaking, snowboarding.
Kameron Lindsey
Kameron worked in the food service industry, retail sales, as a STEM tutor/lab assistant, and as an asbestos abatement site supervisor. That variety of professional experiences, in addition to personal experience, has lead to a focus on advocacy for health, environmental justice, equity, and education. He is currently serving as Co-Chair on the Racial Equity Community Advisory Committee for the city of Minneapolis.
A first-generation college student, Kameron has an A.S. degree in Chemistry from Minneapolis Community and Technical College and is currently pursuing a Bachelor's degree in chemistry at Metropolitan State University. He is committed to applying that scientific and technical background to areas where there is overlap between science, public policy, and impact on public health.
Born and raised in Minneapolis, Kameron is passionate about food, community, movies, pets, and laughs.
Julien (Juju) Munezero
My name is Julien Munezero, I am a great believer in a clean and green future for our earth. Me being one of ten children in the family I am a big believer in " teamwork makes dream work" because a team focused on achieving one goal can accomplish a lot. I am a junior year at the University of Minnesota Twin Cities pursuing a degree in political science. I am also pre-law and looking into pursuing a career in environmental law because someone has to do it and I want to be that person.
I was born in Congo and moved to the United States when I was twelve years old. I love to spend time with family and friends but I am usually at the gym in my free time either that or I am outdoors adventuring.
Likhwa Ndlovu
Likhwa is a senior with a double major in Geography and Geology at Macalester College. He has a keen interest in Geographical Information Systems (GIS), urban hydrology and sustainable cities. Born into a family of farmers, Likhwa loves cows, hydroponics, good food and spending time with his family in his home city Bulawayo, Zimbabwe.
Outside of work Likhwa can be found engaging in the arts, including music, poetry, dance and theatre. Focusing on the restorative capabilities of art, his creative journey is rooted in reflection and self-exploration. Likhwa often finds creative ways to blend his artistic passion and his academic interests.
Lucy Okerstrom
Lucy is a junior and she is an undergraduate at the University of Minnesota studying Environmental Sciences, Policy and Management (Policy, Planning, Law and Society track) with a minor in Sustainability Studies. In the environmental field, she is particularly interested in the concept of biomimicry – innovation inspired by nature – which aims to create products and services based on natural biological processes and designs. To better understand the complex frameworks of environmental policy, Lucy currently serves on the Sustainability Committee under the University's Student Senate and engages in problem-solving at a campus-level. She is also involved with the Northern Lakes Scientific Advisory Panel, a Minnesota-based volunteer organization studying environmental issues and their negative impacts on societal health through research and experimental analysis. In her free time, Lucy enjoys going on walks with her dog canoeing and kayaking, and traveling.
Antavia (Tav) Paredes-Beaulieu
Antavia discovered the IDEC program through her time at Metro State University where she is a current student majoring in Biochemistry. She currently holds an Associate of Arts degree in Liberal Arts from Minneapolis Community and Technical College. She is currently a Science Youth Outreach paraprofessional at Metro State.
Her academic interests include chemistry, physics, mathematics, environmental ethics, and bio-remediation. Her personal interests include camping, cycling, community engagement, ethical fashion, and learning how to make just about anything. She spends most of her free time with her 7-year-old, Kota.
Antavia is interested in the intersection of indigenous identity and environmentalism as well as the intersection of youth engagement and socio-economic equity. She is grateful for her position as an IDEC fellow and looks forward to growing, alongside her cohorts, both personally and professionally.
Cheyanne Rose
I was born in Fort Monmouth, New Jersey on May 7th, 1994 which was a naval base where my father was stationed. I lived there for a year before moving to California where I spent my elementary school years. My father retired from the navy, so we moved to Seattle, WA for a few months to stay with my grandparents before finally settling down in Blaine, MN. I had issues adjusting to my new life so my grades plummeted. After high school, I took years off to find who I wanted to be and just worked. I took several general courses at community colleges and realized I had an interest in biology. From there, I went to St. Cloud State University to hone in on my interests and find how I could make the most of an impact on the environment I wanted to preserve. I graduated with an undergraduate program in Biology: Biodiversity, Evolution, and Ecology in spring 2020 and currently pursuing a graduate certificate in GIS at SCSU.
Akia Vang
Hi! My name is Akia! I grew up in the Twin Cities and have always enjoyed visiting the numerous natural and recreational areas around. Whether it be a waterfall at the state park or just the playground at the neighborhood park, the occasion was always great to be outside with family and friends. Through observing the wildlife and learning how to fish by the shoreline, I found my passion for the outdoors and it has since been a place of fond memories, active learning, and hope. There are a lot of imminent problems in the changing world and many are right here at home; I want to be a part of the solution and help my community. That is why I am pursuing an undergraduate degree in environmental sciences and transfer to the University of Minnesota Twin Cities from Minneapolis Community & Technical College. I want to foster sustainable solutions in the balance between protecting the environment while managing its resources for use responsibly.
Nyah Vang
I am Nyah Vang and recently finished my sophomore year at St. Cloud State University. My goal in life is to travel the world and give back to communities in need. I am the oldest out of three girls in my family and the first in my intermediate family to attend a university. I come from a very strong Hmong bloodline and I love to embrace my culture and informing others about my culture and traditions. I enjoy outdoor activities and sports like hiking, fishing, and volleyball. I also love to cook and in my free time I enjoy watching shows like The Good Doctor and Law & Order.
Emma Vanhdy
Emma is a junior at the University of Minnesota Twin-Cities. She is currently double majoring in Fisheries, Wildlife, and Conservation Biology, with an emphasis on Conservation Biology, as well as Forest and Natural Resource Management, concentrating on the Urban and Community Forestry track. She is primarily interested in forest conservation, entomology, and environmental justice issues with hopes of attending grad school once she graduates. Emma is also involved in the Asian-American Student Union (ASU) as the ASU Ambassador for the 2019-2020 academic year, and in the Minnesota Student Association, the undergraduate student government, as a Student Group Representative. In her free time, she likes to hike, explore new restaurants, and identify trees