My Journey from Crew Member to Crew Leader: Growing as a Leader at Conservation Corps Minnesota & Iowa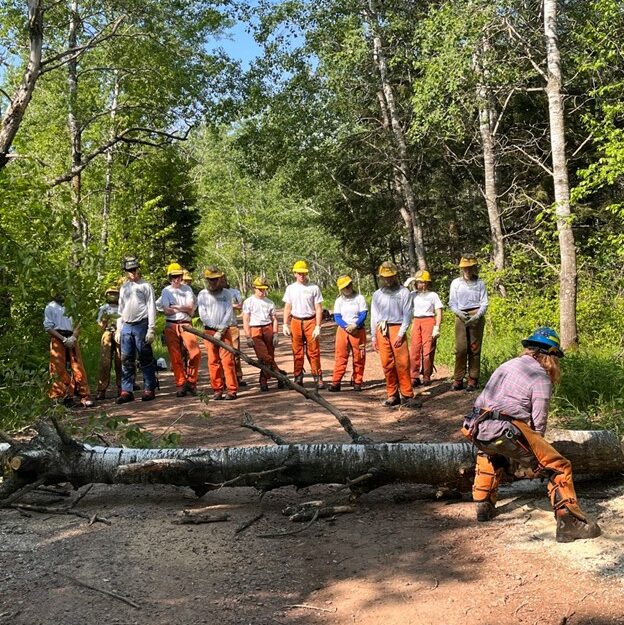 By Braden Kowalski, Duluth Field Crew Member / AmeriCorps Member
Last summer, I served as a crew member with Conservation Corps Minnesota Iowa. Now, I am returning as a crew leader to once again engage in environmental stewardship programs that improve access to outdoor recreation and protect the environment. Transitioning from a crew member to a crew leader has been a transformative experience, allowing me to grow personally and professionally while making a lasting impact on the world, and people, around me.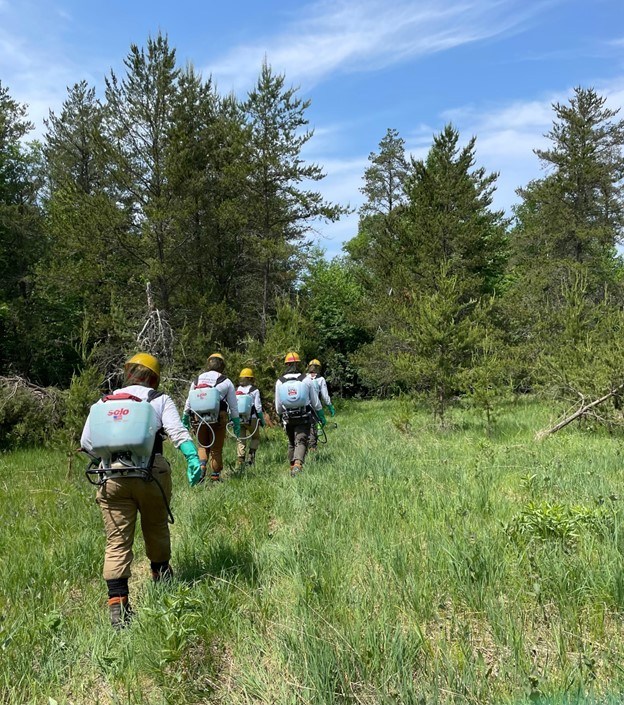 When I first joined the Conservation Corps as a crew member last summer, I was eager to learn and contribute to environmental conservation. Engaging in hands-on projects last summer helped me gain valuable technical skills I still use today, as well as a deeper understanding and respect of the natural world that guide my actions. As I immersed myself in various conservation initiatives last year, I realized that there was an opportunity for personal growth by taking on more responsibilities. These feelings are part of what inspired me to return this summer as a crew leader.
Conservation Corps Minnesota & Iowa understands the importance of cultivating leaders. To support my transition to a crew leader role, I was provided with comprehensive leadership training and development opportunities. These sessions helped equip me with the tools necessary to effectively lead a team, communicate goals, and coordinate project logistics. I learned about conflict resolution, decision-making, and time management, all of which are essential skills for successful leadership. When I am out in the field, these skills help me effectively lead my crew every day.
One of the remarkable aspects of Conservation Corps is the culture of mentorship and support. Throughout my journey, every day I am receiving guidance from experienced leaders and staff members, many of which I worked with and grew close to last summer. They are helping me navigate challenges, refine my leadership style, and build confidence. Their wisdom and encouragement ensured that I had the resources and guidance needed to thrive in my new role as a crew leader. Their support didn't stop in training though, they act as active resources every day for my crew and I.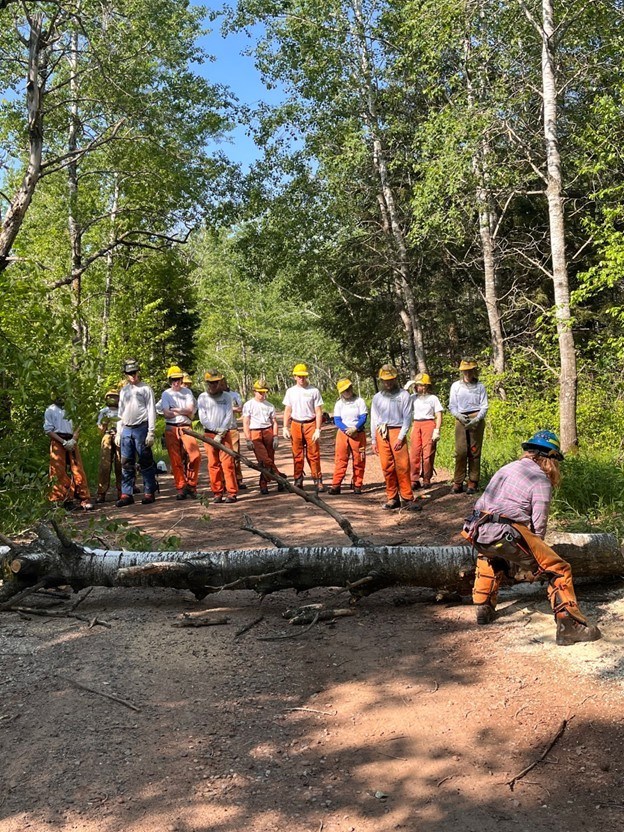 Beyond leadership skills, Conservation Corps prioritizes nurturing a deep sense of environmental stewardship. As I am transitioning into a crew leader, I have the opportunity to inspire and educate others about the importance of conservation. I'm learning to empower my team members, instilling in them a passion for protecting natural habitats, restoring ecosystems, and addressing community needs. Together, we are forging a stronger connection with the environment and fostering a spirit of sustainability.
The journey from a crew member to a crew leader at Conservation Corps is a transformative experience that extends far beyond developing leadership skills. It has been a pathway to personal and professional growth. Leading a team in the field to do impactful projects is helping me cultivate self-confidence, adaptability, and resilience. The challenges and successes I am encountering every day are shaping us into stronger and more capable individuals. Even after just this first week, I have already noticed vast improvements in my crews confidence and adaptability. There is no better way to gain these skills then out in the field, using the skills constantly.
My transition from a crew member to a crew leader at Conservation Corps Minnesota & Iowa has been an incredible journey of self-discovery and growth. Through the hands-on experiences, comprehensive training, and unwavering support, I have blossomed into a leader passionate about environmental conservation and community service.
Conservation Corps has empowered me to make a meaningful impact on the world around me. By fostering a culture of leadership, it creates a ripple effect, inspiring young adults like me to take charge and drive positive change. As I continue to lead my crew this summer to address community needs and protect our natural resources, I am grateful for the invaluable lessons and experiences that Conservation Corps has bestowed upon me.
If you're passionate about the environment and aspire to become a leader, I encourage you to embark on a similar journey with Conservation Corps Minnesota & Iowa. I am proud to be able to help make a difference in our communities and leave a lasting legacy for future generations.