Over 2 tons of trash removed during 27th Annual Mississippi Riverboat Cleanup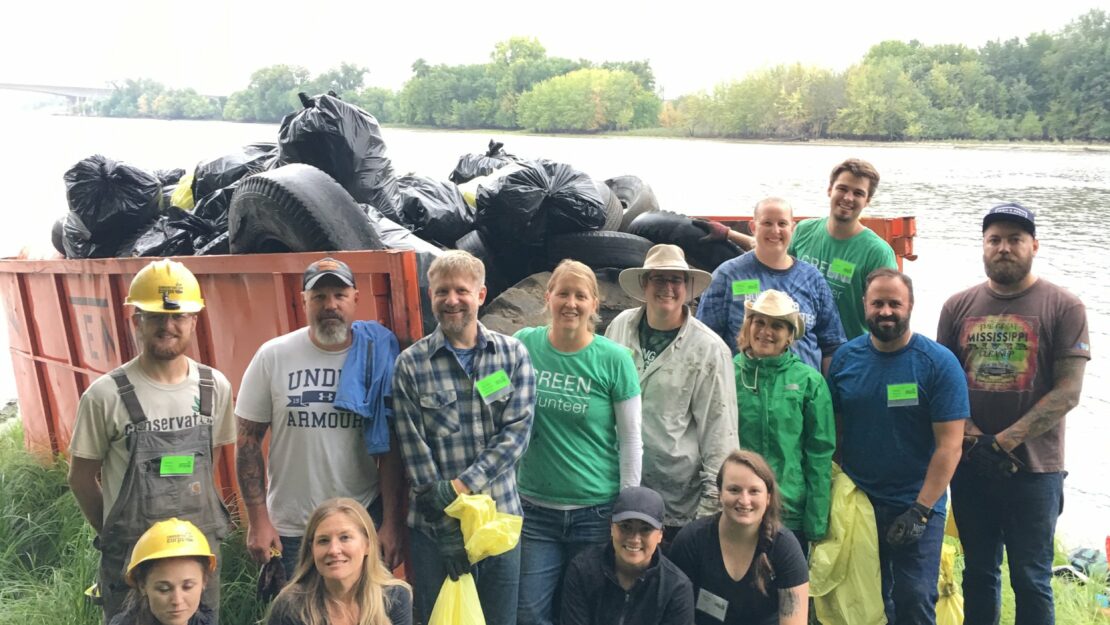 By Rachel Wagner, Development and Communications Specialist
After being rescheduled due to unsafe water levels from its original date in June, the Conservation Corps' 27th Mississippi Riverboat Cleanup took place on Tuesday, September 18, 2018. The successful event mobilized 111 volunteers to remove 2.08 tons (4,160 pounds) of trash from the shores of the Mississippi River near Pig's Eye Island. The volunteers found many sizable items such as a broken house boat, a 350-pound tractor tire as well as 25 vehicle tires. Also, many smaller items were removed that would otherwise harm wildlife habitat including hundreds of plastic bottles, straws, Styrofoam waste, and other plastics.
The Mayor of South Saint Paul James Francis thanked the volunteers and wished them well during the morning program by sharing, "We are grateful for your participation today and for your employer's support in making this possible."
Volunteers expressed their appreciation. Neil Hall of Van Wagenen Financial Services shared, "Thank you for such a cool and meaningful event yesterday on the river. I love what Conservation Corps does and appreciated being part of the Riverboat Cleanup effort. Keep up the magnificent work you all do!" Paul Nordell, Minnesota DNR retiree and volunteer, commented, "I'm grateful to Conservation Corps for continuing the Riverboat Cleanup, the annual tradition started by the DNR in 1992. This volunteer led event brings people to remote areas of the river where trash routinely accumulates. Over the years, thousands of volunteers have improved the health of our great river."
Conservation Corps partnered with 10 local employers that provided important resources for the Riverboat Cleanup. These included Wells Fargo, Boston Scientific, Highland Bank, Van Wagenen Financial Services, Timberland, Thompson Reuters, SAP Success Factors, Minnesota Valley National Wildlife Refuge, Refuge Friends, Inc., and Art Start. These employers encouraged employee registrations and provided a paid work day for their employees who volunteered. Volunteers of Friends of Upper Landing Park, located on Shepard Road near downtown Saint Paul, also participated.
Sponsors for this event included the John S. and James L. Knight Foundation, Wells Fargo Foundation, and Boston Scientific Foundation. Padelford Riverboats provided transportation and lunch. Upper River Services provided dumpster delivery. Tennis Sanitation provided use of a dumpster. Living Lands and Waters donated t-shirts and gloves. Cub Foods donated cookies. National Parks Service and Minnesota DNR provided shuttle boats. Local organizations contributed door prizes: Park Square Theatre, Science Museum of MN, Timberland, and Art Start.
Our efforts are making a difference, but as you can see there is still work to be done! If you want to get involved with Adopt-a-River efforts, visit our website and become an adopter! http://www.conservationcorps.org/adoptariver/