Ponds and Problem Solving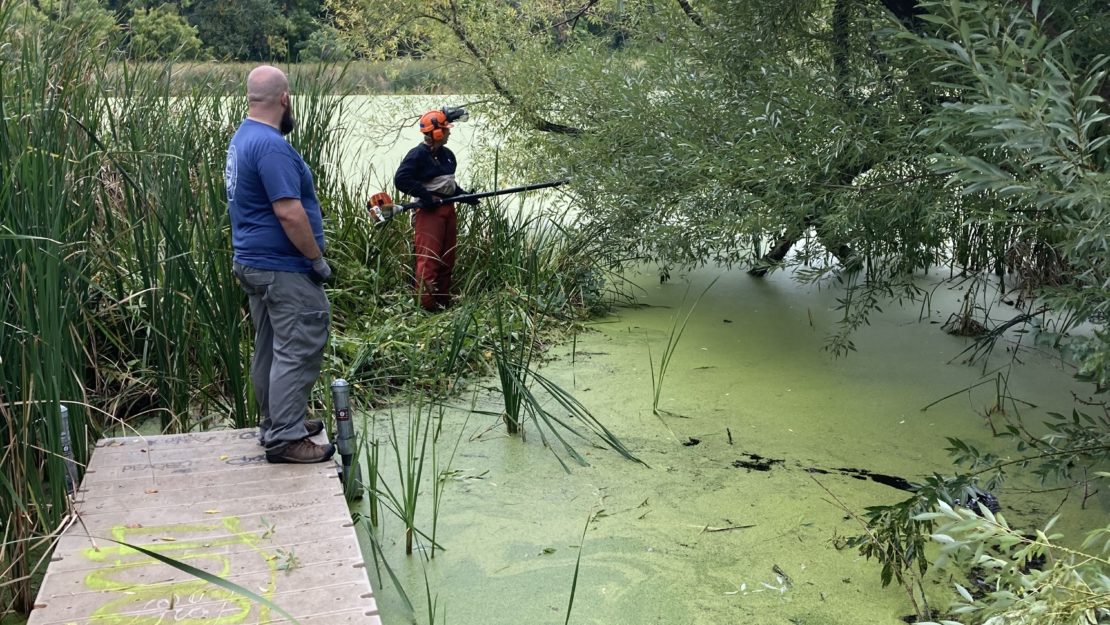 by Karissa Vetsch, Youth Outdoors Crew Member/ AmeriCorps Member
This past week, my Youth Outdoors Crew and I had a small project of clearing some paths for canoe access on two ponds. Working with Minneapolis Parks and Recreation Board (MPRB), we often have a variety of tasks to help with the environmental staff but this project was about creating access so the MPRB Water Quality employees could get a canoe in and get water samples from these ponds. The first pond had a dock and a small access point to the right but had lots of overgrowth and branches in the way.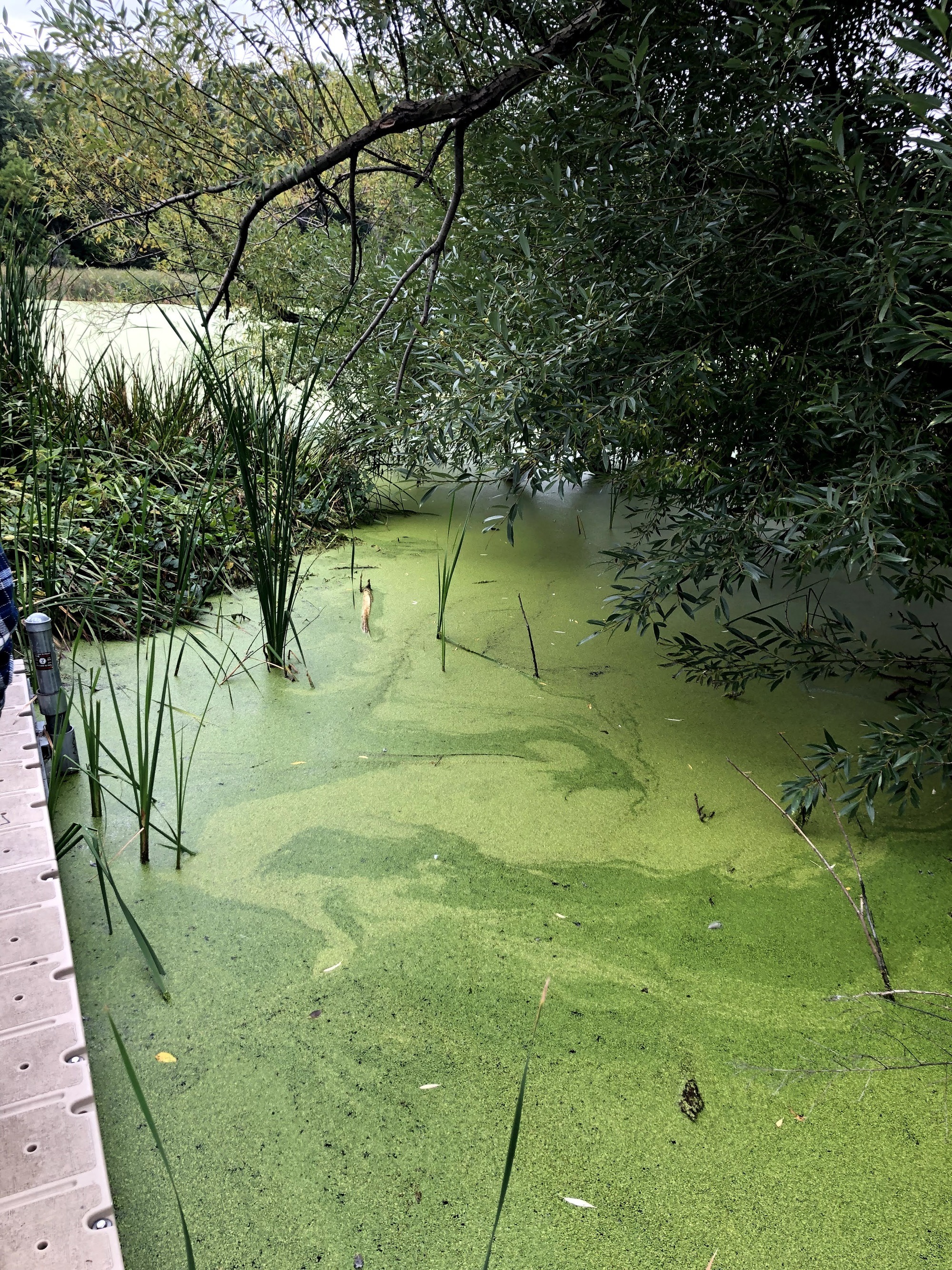 Using a power pole saw while standing on the dock, we got a few of the branches we needed to cut. After testing it out, we saw that we wouldn't be able to reach the rest of the overgrowth without going into the pond. We had brought waist waders and some hand loppers just in case. My crew and I divided out tasks and I offered to go into the pond and see if I could reach.
While standing on a floating island in the pond, I could reach the remaining branches and cut them out of the path's way. After cutting them free they fell into the pond. Here came the problem, I couldn't reach the branches I had just cut from the island and had to wade deeper into the pond to fish them out.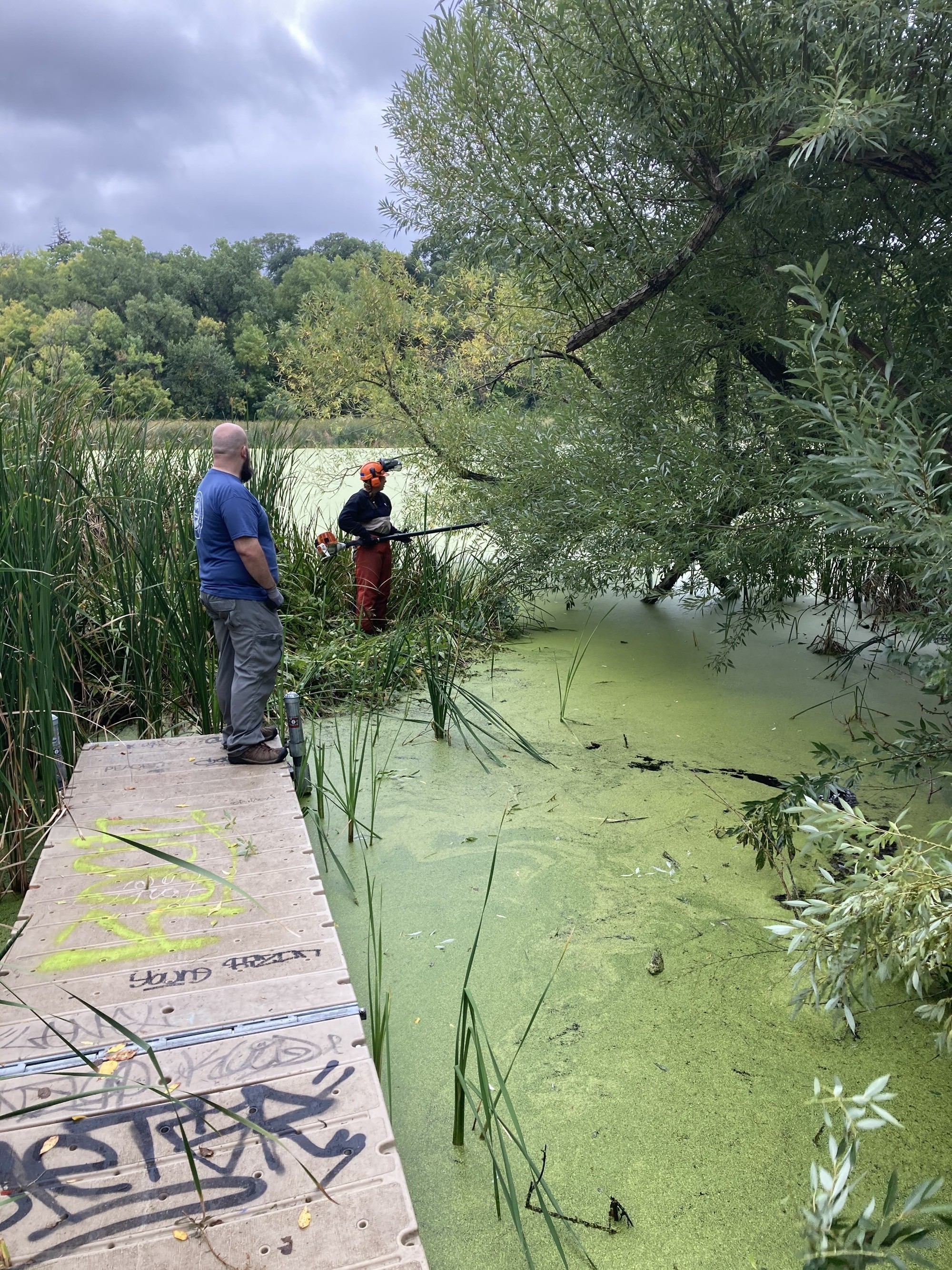 After handing off the power pole saw and removing my chaps, I slowly began to walk in so I could stop walking out before the drop-off. The pond was covered in Duckweed and I couldn't see below the surface. Each step my feet sunk deeper into the mushy bottom, and I had to yank each foot up and out of the sludge to take another step. After wading in a bit, my legs began to get snagged on branches and logs in the water that I couldn't see. The only way forward was a sort of hurdle-step where I tried to un-suction my foot and raise my knee high enough over the hidden log. Once I got within reach of the branches, I tried to pull them in. I didn't have solid footing and my pulling felt more like losing in tug of war. The largest branch was caught on something and I was getting more and more frustrated. My feet were stuck and I had gotten quite a bit of duckweed on my face. I was ready to be done but my crew came to the rescue.
My crew suggested someone stand on the island in the pond and help me un-snag the branch. As reinforcements came in, I took a few deep breathes and tried to focus on this new plan. We got the branch un-snagged and could pull it a bit forward. Then, it got stuck again in a different position. After rearranging my footing, I could hoist the branch up and that allowed it to disconnect from whatever it was stuck on. I handed it to my crew member and we passed it back and forth until we could get it to our crew on the dock.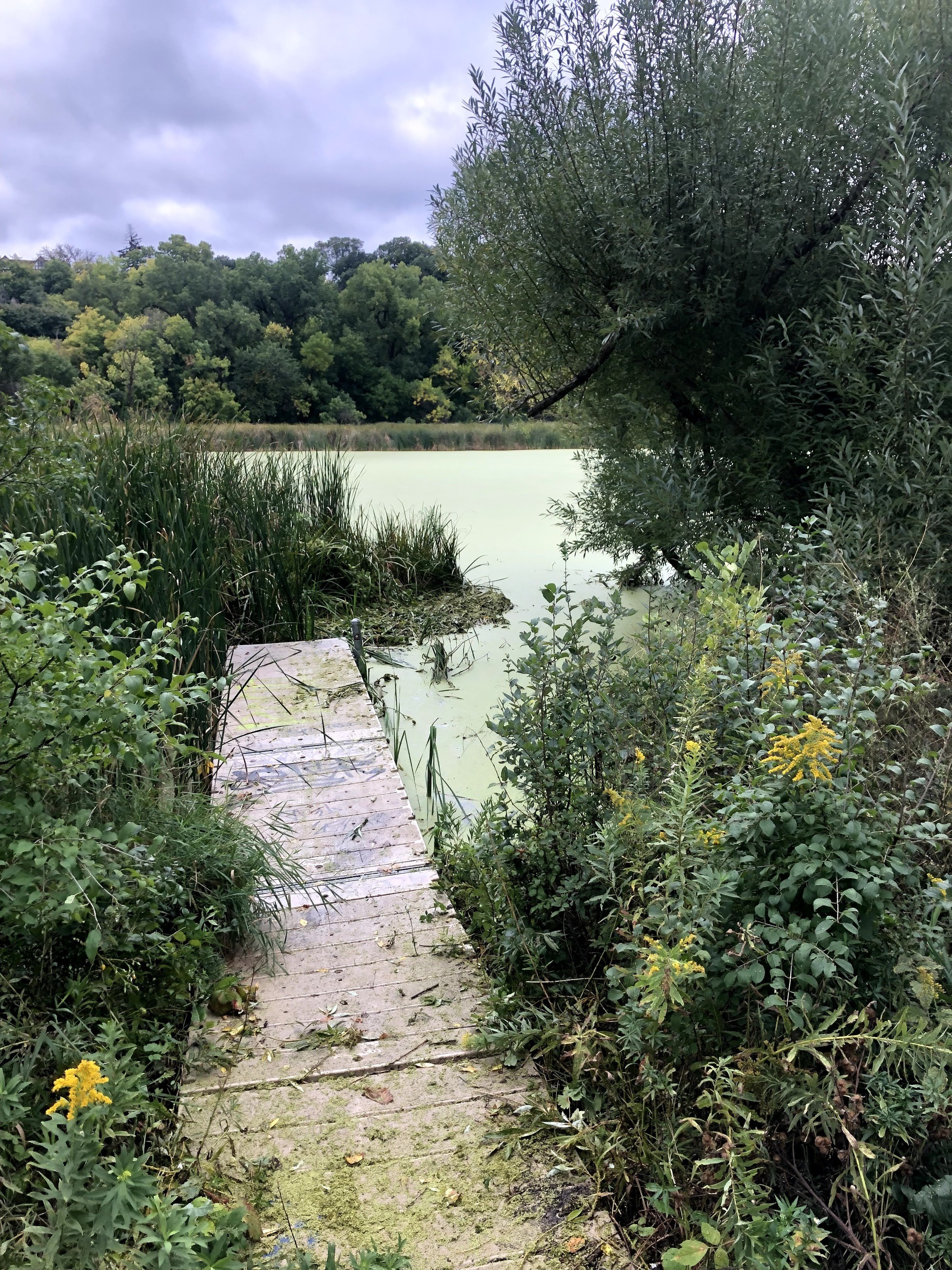 After the bigger branches and remaining pieces were out, I was able to start my slow squishy return to land. Once out of the pond, I found it easier to remember the big picture and relax again. This task was not one of my favorites, but it did remind me even if we can't see the end, or what's underneath the surface, we can pause, breathe, and work together to get through.