St. Paul Citywide Spring Cleanup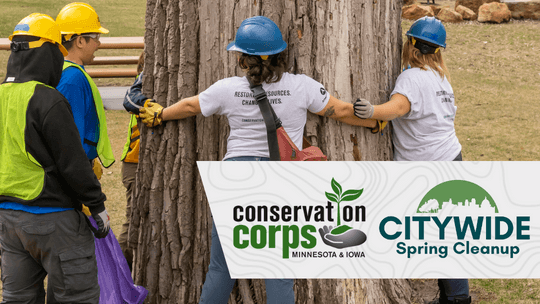 Join Conservation Corps Minnesota & Iowa (CCMI) on Earth Day as we partner with Saint Paul Parks and Recreation and Public Works for the 37th annual Citywide Spring Cleanup.
What: Groups and organizations are hosting sites across the city and inviting the public to clean up litter that has piled up over the winter in St. Paul parks and neighborhoods. Individuals and groups of all ages come together to pick up litter that has recently become exposed due to the melting snow. Gloves and bags are provided for volunteers. To celebrate Earth Day, CCMI will be featuring Earth Day Plinko, prizes, and morning nourishment.
Where: CCMI will host a clean-up site at Cherokee Regional Park in Saint Paul, featuring Earth Day Plinko and special prizes.
Please Note: We were originally planning to be at Harriet Island/Kelley's Landing, but have relocated to Cherokee Park due to potential flooding concerns.
When: Saturday, April 22 from 9 – 11:30 am (rain or shine!)
Participating is easy! Sign up here, then stop by the Cherokee Regional Park cleanup site any time between 9 am – 11:30 am on April 22 (note that the event ends at 11:30 am). Remember to wear weather-appropriate clothing and bring your water bottle. You'll sign in at the large picnic shelter, pick up bags and gloves, then head out to clean-up trash around the park.
Thank you to these local businesses for providing in-kind support for our host site this year: