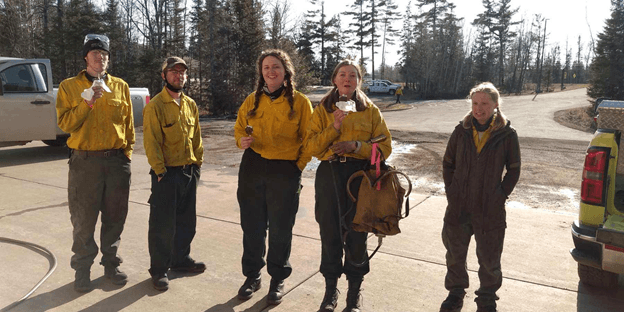 by Jenny Sherren, North District Field Crew Member/ AmeriCorps Member
When completing our wildland firefighting in-person training, we learned the communication technique used on a fireline. The crew members on a fireline use "take more" and "take less" to communicate what kind of support they need or can provide to their fellow crew members. If a crew member realizes that they do not have much work to do because other members are taking too much work on themselves, they will communicate that they are able to provide more support. In this instance, they would tell their fellow crew members to "take less". The opposite could also happen as well; a crew member may realize that they need more support and will communicate to the others to "take more".
In one of our longer truck rides on a spike, I realized this idea can be used off the fireline as well. There will be times where I need to take more or take less as a crew member.
So first off, the times when I will need to 'take more' as a crew member — times when I will need to dig deeper to get the job done. It may be that one of my crew members is sick. Or it could be a physically or mentally demanding project. In these instances, I will have to 'take more' and show up for my fellow crew members to successfully complete a project. This may look like increased communication with my crew members, asking others how I can help, and taking the initiative to complete routine tasks before they are assigned.
Secondly, there will be times where I may need to 'take less' to ultimately better the crew. There will be times where working at a certain pace may eat up all my energy or potentially get me hurt. I may also not be able to perform at 100% due to physical or mental barriers from day to day.  Additionally, there may be times where taking on a large task as an individual proves to be less efficient than working in a team. Lastly, I believe that taking on too much as an individual minimizes opportunities to share knowledge and skills with other crew members. So, when appropriate, I will 'take less' to ensure that I can continue to be a good crew member going forward.
I really love this idea since it highlights how much support there is working in a crew. I can support other people while knowing that they have my back as well. Shown below is my crew after our first time out on a wildfire. We had worked for over 11 hours and were talking about what went well, and how we can provide each other more support for the next fire over some ice cream. I hope that practicing these ideas with my crew will also carry on into my personal life and I may start seeing where I can take more or take less each day.