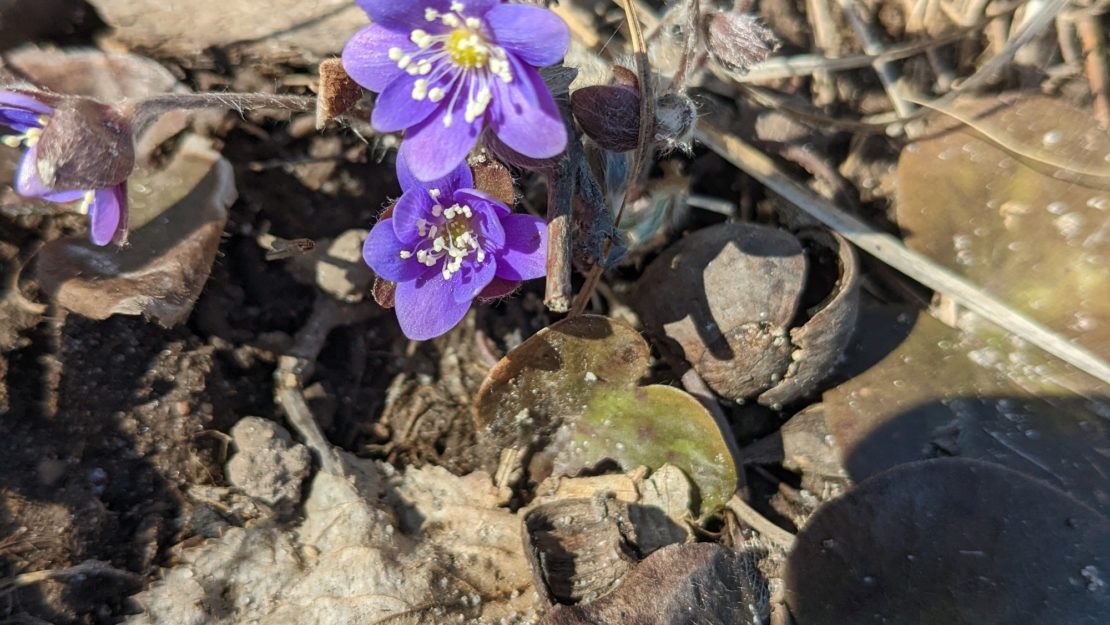 By Cyrus Bird-Walker, Brainerd Field Crew Leader / AmeriCorps Member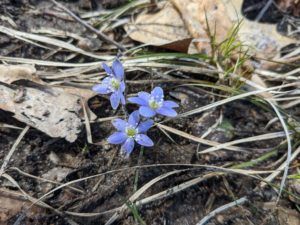 My crew and I spent several weeks working with The Nature Conservancy doing prescribed burns. When the weather wasn't optimal for burning, we prepped plots that would be burned later on. Whether the fire lines were old ATV trails or made from scratch, hard work found success. I enjoyed the leaf blowing aspect. They had provided us with four leaf blowers that can blow through to mineral soil and had to carry on your back. Some days where we had to hike into the unit (Bass Lake…), we wore our hiking packs on our front and the leaf blowers on our back. Were we turtles? Sumo wrestlers? All I know is that pack test training proved its worth. With spring comes ephemerals and flowering plants, trees leafing out, providing color and warmth to the forest ecosystem. Using Seek, a species identification app, I was able to observe plants like largeflower bellwort, Sharp-lobed hepatica, common onion-orchid, liverleaf, and prickly tree-clubmoss. My crew had also managed to spot a porcupine, falcon, barred owl, and several skittering chipmunks. Several times my crewmate Chris uncovered a snake while leaf blowing around snags in the burn unit.
This past week we had the opportunity to work with our local Parks and Trails contingency located in the same Brainerd DNR facility. They started by sending us up to the Spider Lake ATV/OHV Trails, where we finally got to extensively use our mule. With the recent storm, we were tasked with clearing the trails of fallen trees and hazardous branches. With the trails being closed for that reason, we had them all to ourselves. Between the two days at that site, we covered roughly 13 miles of trails, with steep slopes and beautiful scenery. We almost ran over a painted turtle leaving one of the trailheads. Our third day we spent picking up garbage along the Paul Bunyan State Trail, amassing 19 kitchen trash can sized bags and covering a mile of trail. Given that we are a crew of two, I'll consider that an accomplished day. It has been one of the more rewarding project weeks, as we have made an impact in the same community we live in. We had a few pedestrians passing by who thanked us for the work we've done, and that is why we do it. The Conservation Corps gives us the opportunity to make our communities and natural spaces better.