Upper Midwest Invasive Species Conference 2018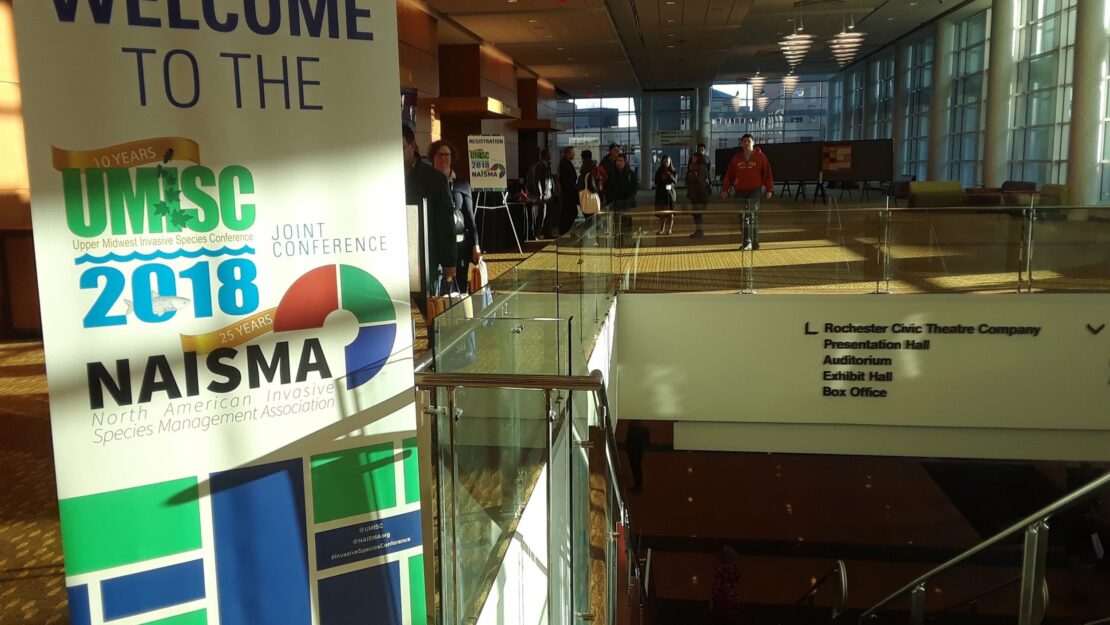 By Caroline Fazzio, Individual Placement Program
On the 15th of October, over 700 people from as close as St. Paul to as far as Moscow convened in Rochester, Minnesota. Amidst copious construction projects and some ill-received early snow, these hundreds of individuals all found their way through the bustling streets and skyways to Rochester's Mayo Civic Center. What brought so many strangers together at the primitive hour of 7 am?—the Upper Midwest Invasive Species Conference.
Colloquially known as UMISC, the Upper Midwest Invasive Species Conference is a bi-annual conference hosted by invasive species organizations across the upper Midwest. It brings together government agencies, tribal agencies, private companies, professionals, students, researchers, citizen-scientists, and more to discuss invasive species and share management and prevention strategies. This year the conference was even bigger, for it partnered with the North American Invasive Species Management Association (NAISMA), drawing new interest from across the continent and the world.
I attended the four-day conference along with many other members of the MN DNR and a number of folks from Conservation Corps MN & IA. I went on a field trip to the Prairie Island Indian Community to learn about invasive species management in cultural and heritage-significant lands, and sat in on a plethora of different speaker sessions discussing everything from fire management to restoration to new creative ways to combat invasive species. One particularly memorable presenter described his work in Hawaii using paint-guns and herbicide-filled paintballs shot from helicopters to treat invasive species along hard-to-reach coastal and volcanic cliffs.
Overall, I learned a lot from both the presentations as well as the interactions and methods of communication by the other attendees. While standing in the conference reception lobby, watching the intermingling of casual and professional interactions, it occurred to me that every moment of the day is an opportunity to learn. As valuable and informative as the content presentations were, I learned just as much from simply watching those around me. It's a good reminder that every moment is a chance to observe the world around you and learn from what you witness.