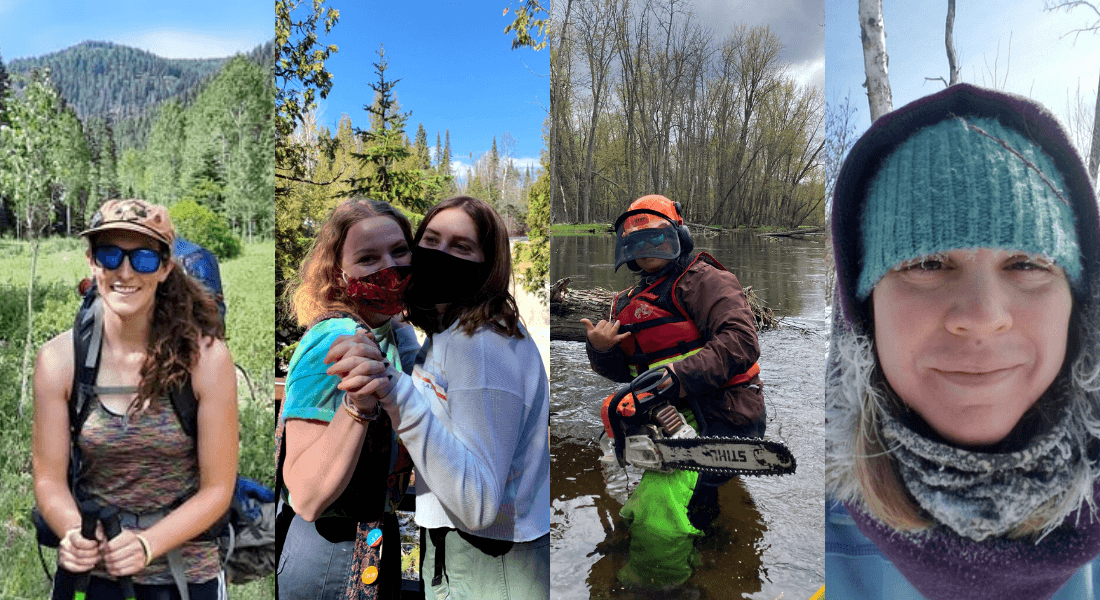 We shared stories and experiences from staff and members on social media this month to celebrate Women's History Month this March! Below you can read from them about their experiences as women in the outdoors and why it is important for women to have leadership roles in the outdoors.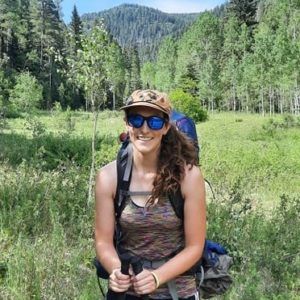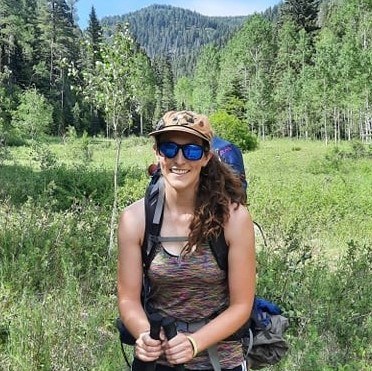 Hillary Olsen
Member and Community Outreach Coordinator
My earliest memories of the outdoors include hordes of mosquitoes, sand flea bites, mile long portages, smelly latrines, and desperately hiding under tarps during heavy thunderstorms. While these experiences were difficult, they are counterbalanced by the more pleasant memories of listening to water droplets hitting a lake as they dribble off my canoe paddle, the whisper of the wind as it ripples through the white pines, eating and laughing around the campfire, going to sleep listening to the hooting of owls and the eerie calls of loons, and most importantly, feeling a sense of belonging and peace, that for me, can only be found in nature.
When I'm enjoying the outdoors, on my own or with trusted folks that see me for my whole person, I feel more myself and I'm able to let go of those persistent, exhausting gender constraints that follow me around in my day-to-day life. I'm not worried about being too assertive, automatically ensuring a man's comfort over my own, the male gaze, code switching, hairy legs, laughing too loudly, dimming my bright, questioning my abilities to do traditionally male tasks, or denying my instinct to lead with my heart and intuition since logic and concrete answers seems to gain more respect and credibility.
When I go backpacking or mountain biking, I'm not wondering whether the white pine thinks I'm sexy or if the loud, territorial barking of a red squirrel is because I am daring to use intuition instead of logic to problem solve. In fact, the idea of gender doesn't even exist in Mother Nature. I'm just loved and accepted exactly as I am and can leave my gender baggage at the trailhead. This is good, because I definitely don't want to carry that extra weight up those hills! I got places to go! 😉
Sienna Ecker
Increasing Diversity in Environmental Careers Fellow
The environment is home to all of us. It needs to be protected by more than just the male perspective. Ideas flourish in diverse settings where our collective attitude is respected. Women are the future and are a vital aspect of science. Every day, I am inspired by women everywhere and motivated by their accomplishments and strength. The perseverance of women before me is how I am able to seek a career in natural resources. I am endlessly grateful to them and will continue to cheer for other women surrounding me!
Mary Metchnek
Increasing Diversity in Environmental Careers Program Coordinator
I have always wanted to work in natural resources (specifically the ocean) since I was small.  While living in Hilo, Hawaiʻi, I served an AmeriCorps Kupu term as a kiaʻi loko or traditional Hawaiian fishpond steward and continued to volunteer there after my service term was up. Throughout college I spent many hours volunteering in areas that would support ocean conservation and restoration within the community. As a BIPOC woman in the natural resources world I will say my experience has differed based on location. I moved back to MN in 2019 from Hilo, having spent some of my childhood years in MN. Starting in 2020 I served as a field Crew Lead for two years and a Field Specialist for most of 2022 before joining CCMI's staff. While I enjoy working in the outdoors helping to steward our natural resources and participating in recreational activities such as camping and fishing in MN, I have also had negative experiences. These experiences involve microaggressions, feeling unsafe by myself and an overall need to do extra work to "prove myself" to continue being in leadership roles in natural resources. For myself these experiences make it even more important to represent as a BIPOC woman in a leadership role in the outdoors industry to ensure I am taking up space and creating space for the following generations.
Kim Tri
North Field Coordinator
I think that now is a very powerful time to be a woman in conservation, as we work to break down the last of the barriers and clear out the old-school toxic masculine mindset that doesn't do anyone of any gender any good.  We can call out not only the overt discrimination to disempowered groups practiced by the founders of the conservation movement, but also some of the more subtle outdated mentalities they carried that we need to move beyond.  Nature needs no longer be a place where people go to prove themselves by conquering their environment, but instead can be a place where we learn about ourselves by learning about and connecting with the world around us.  We still have to be tough and work hard to make it, but the hard work doesn't need to be the end goal in and of itself as it has in the past, and I think women are championing this idea.
The relative scarcity of female role models in the early years of my career was one of the biggest draws to working as a staff member for a conservation corps.  We need to demonstrate to our next generation that this life path can be for everyone by increasing representation of all sorts at the top.  When I first started this job with Conservation Corps, a big selling point was that my office was mostly women (now entirely women!), an experience that in my past had been extremely rare.  With more women in leadership roles, we can show this path can work for all types of women.
Women in the outdoors need other women, I believe.  I've worked so rarely with other women in my career, and can say that there is a palpable difference in attitude when women get to work with other women, rather than just being surrounded by men.  They often become more comfortable expressing themselves and asking questions when they have other women to consult and open up to.  The rise of women's-identifying-only classes in outdoor and other traditionally masculine skills speaks to this.  Having women in leadership in outdoors not only sends the image that women can and are experts in the field, but can help our emerging professionals feel more confident in themselves as they start to learn about their new career.
[Read more from Kim in this blog post]
---
As Women's History Month comes to an end, we invite you to continue learning about and celebrating women in conservation and the outdoors.
At Conservation Corps Minnesota & Iowa, we embrace our vision, "a world where everyone has equitable access to nature, is equipped to succeed in career and life, and is empowered to make a difference in conserving natural resources." Read about our commitment to Justice, Equity, Diversity, and Inclusion.